A group of Swedes was among hundreds forced to evacuate from the Santa Cruz Mountains because of the Loma Fire, which on Tuesday had charred more than 2,000 acres and burned two homes.
And for bride-to-be Lindsey Stiles, of San Mateo, that means she probably can't get married Saturday at the Sveadal campground in Uvas Canyon, a sacred site that's been part of her family since even before she was born.
"I'm trying not to lose it," Stiles told NBC Bay Area on Tuesday. "It's always been my dream to get married there. But yeah, now, there's a fire."
The 31-year-old half laughed when she said history seemed to be repeating itself: Her parents were supposed to be married at Sveadal (SVAY-ah-DAHL) in the 1980s. But a fire the year before dashed their hopes, too.
So now, Stiles has been forced to make contingency plans for the big day. She's gotten her head around the fact that will will most likely marry Steven Cavella, a Stanford University student, somewhere else in Silicon Valley instead of the rustic Sveadal campgrounds. She'll just need to divert the caterers and band to the new place instead.
As of Tuesday morning, no one was allowed to enter the Sveadal campsite, a 110-acre piece of property in southern Santa Clara County owned by the members of the Swedish American Patriotic League since 1926.
For 90 years, the group has been renting quaint cabins for summer stays and weddings, most of them built in the early 1900s. Sveadal means "Swedish Valley." Countless vacations, family reunions and Thanksgivings have been spent there.
Stiles had brought her boyfriend to Sveadal plenty of times. She even used a photo of the two on her wedding website. The happy couple is smiling in front of a cabin with a big flag of Sweden behind them; Stiles is Swedish American and her fiance is Italian.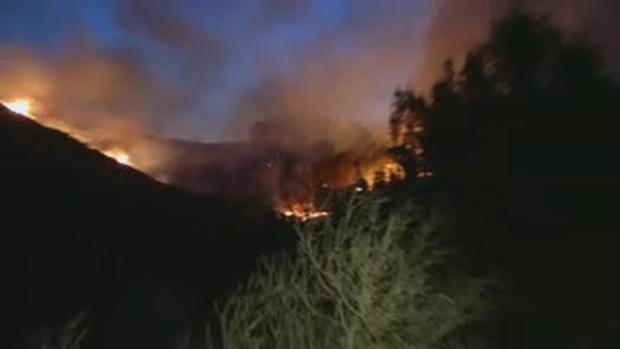 Photos from Fire in Santa Cruz Mountains
Those who belong to the tight-knit Sveadal community know that fire has long been a part of its history.
"We've been through this before," said Kent "Gus" Gustafson, 55, a property management owner in San Mateo, who owns a "vestbo" or cabin at the campground. "The last time, we snuck through the barricades with a TV truck to get our priceless items and photos. This time, there's no way to get in."
Many other areas along the Loma Prieta ridgeline in Santa Clara County were also evacuated.
Cal Fire officials did not immediately say which two structures were destroyed in the fire, which broke out Monday afternoon. The wildfire was threatening at least 300 more structures on Tuesday, and was headed toward the Sveadal grounds.
Swedish American Patriotic League president Conor Massey told NBC Bay Area that a park ranger told him the burned buildings were not near the campground, and that he was heartened 10 engines were sent to fight the fire on the Sveadal property. The area escaped the wrath of the Santa Cruz Mountain Summit Fire in 2008, and Massey is hoping the campgrounds will get "get lucky again."
As for Stiles, she is trying to hold steady and looking to her own mother for inspiration.
Not only has her mom been "amazing" about her wedding changes, but Stiles said her parents have been in a wonderful marriage for about four decades, despite not getting married at Sveadal, as originally planned. Her parents chose to marry at the recreation center in suburban Foster City.
But Stiles doesn't want to follow in her parents' exact path on wedding venues — she's going to choose a beachfront ceremony instead.
"I'm not going to go that route," Stiles said with a laugh.