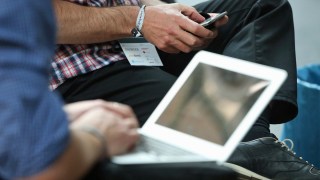 A slew of teenage bandits scored two laptops and a cell phone from the Westfield San Francisco Centre Monday night, marking another instance of violent behavior at the popular shopping mall and tourist center.
The robbery began just before 8:30 p.m. when one male suspect between the ages of 12 and 15 distracted a man and a woman who were sitting at a table with their laptops nearby. The suspect's accomplice, who is also being described as a young teenager, then swooped in and nabbed the woman's laptop, according to SFist and police reports.
While the male victim attempted to chase down the crooks, another teenager took part in the heist, stealing the man's laptop and cellphone from the table, according to SFist.
The male victim shifted his attention and proceeded to chase after the thief who took his valuables, but a fourth teenager entered the scene and reportedly punched the man in the face, SFist reported.
The four teenagers fled the scene, joined by one more accomplice, and police have been unable to locate the suspects and make any arrests, according to SFist.
Monday night's theft comes roughly three weeks after a restaurant employee was found dead in the mall's stairwell in what police say is a "suspicious death" and just over two weeks since a man was beaten and robbed while using a bathroom near Westfield Centre, according to SFist.
According to the San Francisco Chronicle, Market Street between Fourth and Fifth Streets, which is where Westfield Centre sits, has the highest criminal activity out of any block in the city.