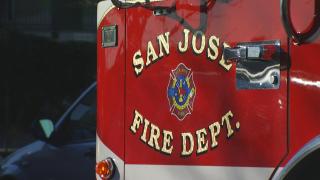 A 3-alarm house fire scorched a San Jose home Sunday afternoon.
Two witnesses and several firefighters raced into the home to save its occupants from the blaze, which sparked around 12:15 p.m. The fire was knocked down around 2:30 p.m., officials said.
An 80-year-old woman was rescued from the house on the 600 block of South 10th Street. It remains unclear who carried the woman out of the burning building, but she was reportedly breathing and alert, according to fire officials.
While battling the flames, a firefighter reportedly fell through the stairs, but was unharmed, officials said.
Further details were not immediately available.
Bay City News contributed to this report.