As we say farewell to 2016, here's a look at NBC Bay Area's Facebook videos that you gravitated toward. Everything from whales to pint-sized boxing champions and spinning donuts went viral:
1. A pair of whales criss-crossing under the Golden Gate Bridge stole the social media spotlight — by a mile — with over 6 million views and 68,543 shares. A windsurfer and a kite-surfer got a little too close to the massive mammals, following them and getting in their path.
2. Donald Trump's "Make America Great Again" rally in San Jose resembled a violent free-for-all. Roughly 1.6 million people watched and just under 2,900 people shared a video that captured protesters and Trump supporters clashing over illegal immigration.
3. Water lapped at San Francisco sidewalks as king tides and rain lashed the Bay Area during a winter storm. Nearly 1.4 million people viewed the somewhat hypnotic movement of the murky water and 13,380 people shared it.
4. Almost 1.2 million people cheered on Dynamite David Lopez, a 12-year-old Oakland boy who participated in the Junior Olympics to retain his position as No. 1 boxer in the United States for his age and weight class. His inspiring story was shared over 12,500 times.
5. Over 1.1 million viewers watched with baited breath as the drivers of three sports cars brought Bay Bridge traffic to a standstill. The video of them spinning donuts, only to get arrested, was shared 6,851 times.
6. Emotions ran high in the aftermath of Donald Trump's stunning presidential victory, which was evidenced by the reactions to a video of a Nazi flag billowing above a Dolores Heights home. In reality, the homeowner neither supports the President-elect nor Nazis — the flag was meant to be symbolic of trouble that Trump's win could usher in. But that didn't prevent the video from amassing over a million views and 13,000-plus shares.
Nazi Flag Flies Over San Francisco to Protest Donald Trump Win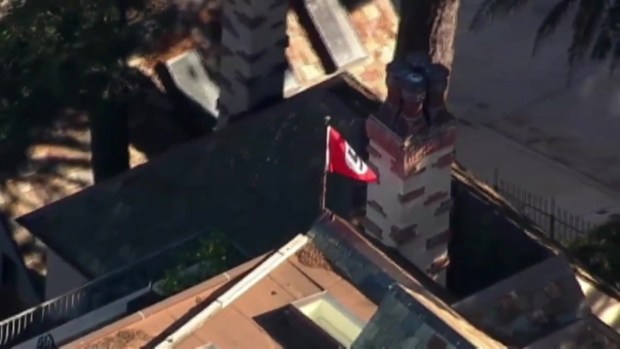 7. San Jose concertgoers were not impressed when Kanye West interrupted his show for a 15-minute rant during which he revealed that he didn't vote, but if he had, he would have checked the box for Donald Trump. Viewed nearly a million times, the smorgasboard of disgruntled reactions was shared over 1,200 times.
8. Turns out, surveillance video, with a dramatic background score, has its own charm – at least for nearly 923,000 people. Four men entered a Pleasanton Apple store and stole 10 iPhones from a display before fleeing. The grab-and-go theft was shared over 3,200 times as people tried to help police identify the suspects.
9. Twenty-five protesters were arrested on Martin Luther King Jr. Day after blocking traffic on the Bay Bridge, and the NBC Bay Area chopper captured the seemingly never-ending gridlock. Maybe some of those disgruntled drivers helped propel the video to more than 600,000 views and almost 4,000 shares.
10. A CHP officer's heroism was watched nearly 570,000 times. Kaleo Clissold "saw an explosion of smoke and flames" coming from the car in front of him, and jumped out to rescue two small children. Almost 4,300 people shared the video to commend the officer on a job well done.