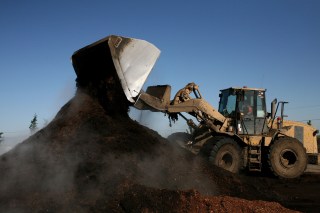 A 37-year-old man who died Monday when the tractor he was driving in unincorporated Fairfax in Marin County tumbled down a hillside has been identified by the Contra Costa County coroner's office as William Bradbury.
A California Highway Patrol helicopter crew responded at 8:45 a.m. to a request for a hoist rescue in the area of 500 Iron Springs Road, where Bradbury had been operating a skip loader tractor and the road gave out, sending Bradbury and the tractor 250 feet down a hillside.
Bradbury, a Fairfax resident, was taken up into the helicopter and then flown to a nearby field where a medical helicopter flew him to John Muir Medical Center in Walnut Creek, according to the CHP.
He succumbed to his injuries at about 12:30 p.m.
Investigators determined Bradbury was making improvements to a private portion of Iron Springs Road as part of a volunteer effort with the Boy Scouts.
A vehicle traveling in the opposite direction approached the area and both vehicles yielded to the right side of the road, but the roadway under the tractor gave out, causing it to go down the hillside, according to the CHP.
Marin County sheriff's deputies and firefighters from Marin County, Ross Valley and Corte Madera had also responded to assist in the rescue.