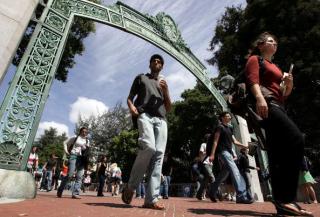 Police responded to a report of a sexual assault that occurred in a University of California at Berkeley dormitory Monday afternoon.
The encounter ident occurred around 6:30 p.m. Monday in the Griffith Residence Hall, according to University police.
The victim, an 18-year-old student, was followed into the building by the suspect, who "tailgated" in behind her, police said.
After following the young woman into a stairwell, the suspect reached under her skirt and grabbed her buttocks, according to police.
The suspect fled the building after the assault, and the woman was not physically injured during the encounter.
University police searched the area, but were unable to locate the suspect. He was described as an African-American man in his 20s, 6 feet tall with a thin to medium build, wearing medium length dreadlocks, a red bandana, a dark hooded sweatshirt and pants with tattered sneakers.
Anyone with any information regarding this incident is asked to call University police at (510) 642-6760.