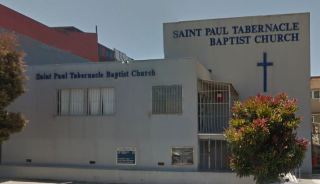 A Baptist church that was desecrated by vandals in San Francisco's Bayview District last week is inviting volunteers to help with clean-up efforts next weekend.
St. Paul's Tabernacle Baptist Church, located on Oakdale Avenue near Phelps Street, was vandalized August 28 by vandals and included graffiti of racial slurs inside the church, broken mirrors, and pews covered in bleach, according to Showing Up for Social Justice, a national network of groups and individuals organizing white people for racial justice.
The group's San Francisco chapter is collecting donations to show support for St. Paul's Tabernacle Baptist Church and to help contribute to the costs of repairing the damage done to their community, according to the fundraising site.
The church pastor Greg Valentine said that the congregation is trying to heal. He explained that the more he rehashes the desecration, the harder it seems to be to heal.
"We're moving forward," Valentine said Thursday. He said that while "we can't put our head in the sand like it didn't happen," people do need to hold their heads up and try to fix the damage.
Michael Pappas, a commissioner on the San Francisco Human Rights Commission and the executive director of the San Francisco Interfaith Council, said earlier in the week that he reached out directly to San Francisco Police Chief Greg Suhr after learning of the vandalism.
Pappas said that Suhr told him the police department has launched a thorough investigation into the vandalism and would work to bring the suspects to justice.
"It's important that the greater community understand what's going on in our own backyard," he said, adding that this sort of display of hatred is seen across the country, but cannot and should not be tolerated in San Francisco.
San Francisco Human Rights Commission Chair Susan Belinda Christian said the commission condemns "the unconscionable vandalism that occurred" and stands with church officials in urging that the perpetrators be prosecuted to the fullest extent of the law.
"The desecration of a place of worship is a vile and despicable act propelled by ignorance, hatred and bigotry," Christian said.
According to Showing Up for Social Justice, this attack on a black church in San Francisco's Bayview district is part of a history of violence against black churches dating back to the 18th century.
"Black churches have always been a place of power in black communities, place of community building and organizing, even before the civil rights movement. Recent attacks on Black churches are a reaction to the empowerment of the Black community and an attempt to terrorize and intimidate Black families in a place they should feel safe," the group said in a statement.
Volunteers who want to help with painting and cleaning efforts are invited to come to the church at 9 a.m. Sept. 12.
The fundraiser that has been set up to help repair the church can be viewed online.