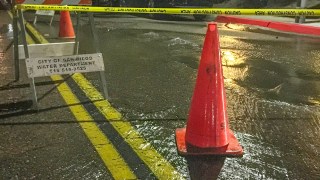 Crews are working to repair an apparent water main break in Fremont Wednesday afternoon.
Overflowing water is reportedly flooding the area of Mission Boulevard and Nursery Avenue, according to the Fremont Police Department.
Law enforcement officials are advising drivers to avoid Mission Boulevard entirely between Decoto and Niles Boulevards.
Police and the Alameda County Water District are on scene.
Further information was unavailable at the time.