Several failed attempts to cajole a 900-pound pregnant elephant seal that repeatedly tried to cross a Sonoma County highway, prompted a rescue plan to be put into place Tuesday to get the recalcitrant mammal back where she belongs.
The Marine Mammal Center officials announced around 4:30 p.m. that crews had sedated the hefty animal and 15 people loaded her into a truck. Officials plan to transport the seal to Chimney Rock at Point Reyes National Seashore and release her back into an "established colony" for elephant seals, according to a news release.
Ahead of the move, though, center spokesman Giancarlo Rulli promised, "It is going to involve a lot of people, a lot of man and woman power."
Wildlife officials spent the morning attempting to nudge the adult female seal away from Tolay Creek back toward San Pablo Bay and the open ocean beyond.
Barbara Halaska, a research assistant with the Sausalito-based center, said volunteers and kayakers were on hand, determining the rescue plan for the "beautiful-bodied" adult female seen poking her snout above water as early as 5 a.m.
Halaska said crews would hop into the water and use a bullhorn to scare her back into the open bay. About 10 a.m., two kayakers paddled slowly behind the elephant seal, trying to guide her back to deeper waters, but the obstinate animal resisted their efforts.
Later in the afternoon, crews unsuccessfully tried to use higher tides to lift the stubborn mammal back out into deeper waters.
"We are not a 900-pound elephant seal so she is deciding to do whatever she wants," Halaska said.
Seal on the highway pic.twitter.com/namGvSKjr6

— Erma (@Emmachait) December 28, 2015
The seal was originally spotted on Monday afternoon trying to cross state Highway 37, which caused traffic backups near Sears Point and state Highway 121 because she was trying to get over the center divider wall, California Highway Patrol Officer Andrew Barclay said.
Drivers stopped to try to help the elephant seal but "it did not want their help," Barclay said. Instead, the "very large, very determined" seal attacked their vehicle, he said.
CHP, U.S. Fish and Wildlife and Marine Mammal Center staff were able to herd the seal off the road but she made repeated attempts to return and efforts to steer her to a different waterway were unsuccessful.
Seal Trying to Cross Highway Backs Up Traffic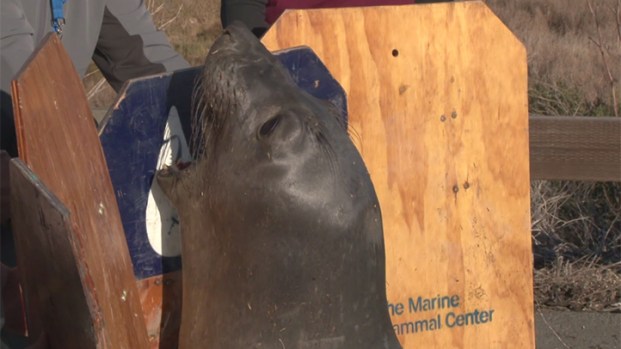 Wildlife officials monitored her overnight while she slept, and as of this morning she was back in the water, swimming around.
Halaska said it is unclear why the seal, who shows no sign of illnesses, was trying to cross the road in an area far from where elephant seals usually go, with no available food or shelter nearby.
Given the season, wildlife officials used a blood sample and ultrasound to confirm that the seal is pregnant.
"I think she's just gotten a little bit disoriented," Halaska said. "We're not quite sure why she's up here, she should be outside on the ocean side in the Point Reyes or Ano Nuevo areas."
Rulli said because of the seal's pregnancy, crews are taking extra precautions and being "extra gentle" with the animal.
NBC Bay Area's Mark Matthews contributed to this report.
Tolay is making her final transition to the transport truck. Almost home! pic.twitter.com/lPDdWyeiRr

— CHP Marin (@CHPMarin) December 29, 2015
#elephantseal update: marine mammal center staff attempting to move adult female from mud flats along Hwy 37. pic.twitter.com/JDJOQEjbq2

— Mark Matthews (@MarkMatthewsNBC) December 29, 2015
#elephantseal update: marine mammal center staff attempting to move adult female from mud flats along Hwy 37. pic.twitter.com/JDJOQEjbq2

— Mark Matthews (@MarkMatthewsNBC) December 29, 2015
Marine Mammal Ctr trying to guide #Tolay the #elephantseal away from Hwy37. Goal: get her back in the bay. pic.twitter.com/1yM53FAhvD

— Stephanie Chuang (@StephChuang) December 29, 2015
Marine Mammal Ctr will try to use loud noise to "scare" the seal in right direction. If still here, may sedate tmrw. pic.twitter.com/uYGSOd87VM

— Stephanie Chuang (@StephChuang) December 29, 2015
Can't get enough of #Tolay the #elephantseal. Water getting very low, making it hard for her to swim pic.twitter.com/aeJEcuOI4W

— Stephanie Chuang (@StephChuang) December 29, 2015
#Tolay or #Bertha the #elephantseal finally swimming again by Hwy 37 #Sonomapic.twitter.com/dMuSPe3zuQ

— Stephanie Chuang (@StephChuang) December 29, 2015
#VIDEO 900 lb #elephantseal hanging by reeds in water off Hwy 37. Unclear why she keeps coming back by traffic. pic.twitter.com/SOy80AFs8i

— Stephanie Chuang (@StephChuang) December 29, 2015
#Elephantseal (~900 lbs) too heavy for boarding. #MarineMammalCenter to go into water, use bullhorn to guide her pic.twitter.com/SvayZh4TuR

— Stephanie Chuang (@StephChuang) December 29, 2015
Last spotted 45 mins ago. #MarineMammalCenter determining "rescue" plan. Next live update @ 5:30am on @nbcbayareahttps://t.co/qhEJWmYvTQ

— Stephanie Chuang (@StephChuang) December 29, 2015