The "We Believe" boys are coming back.
Nearly 10 years to the day since the No. 8-seeded Golden State Warriors pulled off one of the most shocking upsets in NBA history, the stars of that fiery and never-say-die team will be honored Tuesday when this year's squad tips Game 1 of their Western Conference semifinals series.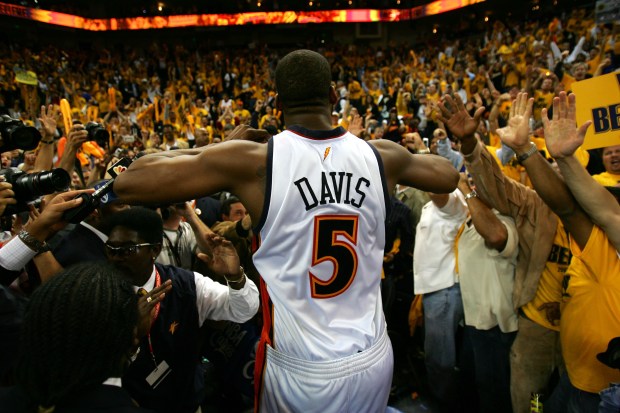 Relive 'We Believe' Warriors' Shocking Upset of Dallas

The anniversary celebration will pay tribute to several former Warriors who made up that upset-minded squad 10 years ago. Baron Davis, Stephen Jackson, Jason Richardson, Monta Ellis, Al Harrington, Kelenna Azubuike, Adonal Foyle, Patrick O'Bryant and Zarko Cabarkapa will all be in attendance during the game. Current Warrior Matt Barnes, who played with the team during that electric season, will also be honored.

Fans journeying to the game will also be able to get their hands on those iconic "We Believe" T-shirts, which helped transform Oracle Arena into a raucous sea of raging gold back in 2007. Fans can purchase those at Oracle Arena or on WarriorsTeamStore.com.
The 2006-2007 Warriors finished the season at 42-40 and were good enough to slip into the eighth and playoff spot in the Western Conference. Pitted against the No. 1 seed Dallas Mavericks, who captured an NBA-best 67 wins that season, the Warriors stunned the association when they dispatched Dallas in six games. That playoff victory marked Golden State's first appearance in the postseason in 13 seasons.
Published at 6:07 AM PDT on May 2, 2017 | Updated at 10:11 PM PDT on Apr 30, 2017