Editor's Note: The photographs posted on this page are graphic in nature.
Whole Foods has fired the security firm at one of its Oakland locations after photographs of a guard pummeling a customer surfaced on Facebook, igniting a firestorm of criticism.
According to a statement issued Saturday, the supermarket chain has hired A.G.S. Private Security. The Concord-based business replaces Admiral Security Services.
"As a result of the violent behavior of the security guard in our store, we are replacing this security firm in the store," Whole Foods spokeswoman Beth Krauss wrote on Facebook. "We are also working with all of the private security firms we contract with now to reiterate and reinforce our expectations that they abide by our code of conduct."
Zoe Marks, a fellow at Edinburgh University, was visiting Oakland, when she posted an eyewitness account Thursday of what she described as a "horrific" incident at the Whole Foods Market near Lake Merritt.
"I just saw a young man violently assaulted by an armed security guard at Whole Foods, slammed repeatedly against concrete pillars, put in a chokehold, restrained, and suffocated until he was thrown face down on the pavement unconscious. The guard locked him out of the store despite the fact he was immobile," Marks wrote.
In Oakland less than four hours and I just saw a young man violently assaulted by an armed security guard at Whole Foods...

Posted by Zoe Marks on Friday, September 4, 2015
In an email sent Friday, Krauss said the security guard, who has been "permanently removed from Whole Foods Market," got involved after the customer made physical contact with a store employee.
Whole Foods Market "takes a zero tolerance approach to violence," Krauss said.
Marks' photographs show an unidentified man with a black jacket lying on the floor bleeding. Paramedics can be seen attending to the man in another photograph. According to Marks, not a single employee at Whole Foods called the paramedics. It is not immediately clear what events took place right before the altercation.
"He was trying to buy groceries with his EBT card and ended up in a stretcher," she wrote.
An EBT or Electronic Benefit Transfer card is a replacement for paper food stamps and checks.
Krauss clarified Saturday that despite the apparent role of an EBT card in Thursday's altercation, they are "readily accepted forms of payment at all Whole Foods Market stores.
"In fact, there's no way or reason for a cashier to know if a customer is using an EBT card unless items not covered under EBT regulations are presented for payment, or the customer voluntarily displays the EBT to the cashier."
Marks wrote she spent an hour giving a written statement to Oakland police officers who showed up at the scene. Requests for comment from Oakland police were not immediately returned.
"I'm sorry for more graphic images of violence against black citizens, but I was here and spoke to the victim (to keep him conscious), perpetrator, several bystanders, and cops," Marks wrote. "Armed private guards cannot be tolerated in our grocery stores and communities when this is what they do to paying customers. Whole Foods needs to be held accountable — security is NOT selective, it is collective."
Whole Foods Fires Guard After Bloody Altercation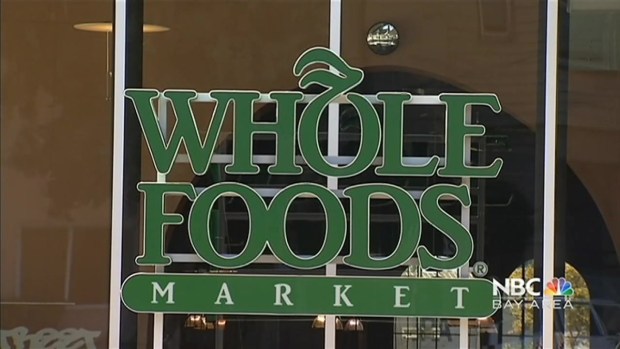 Whole Foods responded on their Facebook page Friday, admitting "there was an altercation that escalated to violence."
"The graphic images circulating on Facebook and Twitter are disturbing to say the least," the statement said. "Whole Foods Market considers the safety and security of all team members, customers and members of our community a top priority. The security guard involved in the incident has been suspended, and we are actively investigating the details with our security firm."
The store team leader in Oakland, Earl Brizee, also told NBC Bay Area: "This is a horrible and disturbing incident. We will do whatever is in our power to help justice be served, and we are working to ensure our neighbors in the community are always welcome, comfortable, and safe in our store."
Meanwhile, Marks posted a one-star review of the 230 Bay Place Whole Foods Market on Yelp. "It's time to disarm your guards and put customers first. This young man was violently assaulted by an aggressive security officer while trying to buy groceries with EBT," her comment, which included the graphic photographs, said.
"Horrified customers stayed on the scene for hours," she wrote, adding that they demanded calls to paramedics and "shouted they would never shop at Whole Foods Oakland again."
For her part, Krauss acknowledged Saturday that the company "still [has] more to do" and is actively exploring "opportunities for improvement."
"Since our store opened we've worked hard to develop relationships with community organizations," she wrote. " In the coming days and weeks, we will reach out to these and other community partners to help us learn how we can continue to evolve our support for our diverse Oakland community."
But Robert ForbiddenLight Michael wasn't appeased.
"This isn't enough," he wrote on Whole Foods Oaklands' Facebook page.
Krauss responded: "Yep — and we're not done. We realize this is just the first step. We're still working on the next ones so please stay tuned."
However, her words further angered Brenda Stroud.
"Yep ?? Please stay tuned ?? This is not a comedy show, this is a man who was hurt and humiliated by someone representing your firm. maybe your unprofessional responses is a representation of your store and employee's . So sad," she wrote.
"You're right, Brenda Stroud. It was a poor choice of words. Apologies; I meant no disrespect," a chastised Krauss replied.