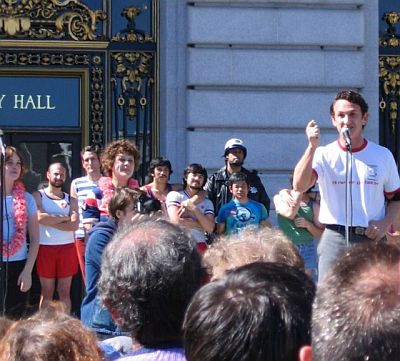 Gay rights activists and scholars are gathering in San Francisco Thursday for "Milk Skimmed", a roundtable discussion about what was left out of the movie about former Supervisor Harvey Milk.
The discussion takes place at 6 p.m. and is hosted by the Gay, Lesbian, Bisexual, Transgender Historical Society at their offices at 657 Mission St.
Panelists and audience members plan to discuss the recently released Gus Van Sant movie about Milk's fight for gay rights and assassination by former Supervisor Dan White at City Hall on Nov. 27, 1978.
Don Romesburg, a board member of the GLBT Historical Society, said the discussion will focus on "what's the story being told by the movie, but also what's limited in its vision."
The roundtable panel includes Gwenn Craig, who was one of the co-chairs for No on 6, a key organization working with Harvey Milk for the 1978 defeat of a proposition to strip educators of their civil rights on the basis of sexual orientation.
Romesburg said Craig and panelist Ruth Mahaney will speak on why they think the movie might have pushed women into the shadows in its depiction of the gay rights struggle.
Tomas Almaguer, an ethnic studies professor at San Francisco State University, and Joshua Gamson, a sociology professor at University of San Francisco, will also be on the panel.
Tom Ammiano, a former city supervisor who was elected in November to the state Assembly, worked on Milk's campaign for supervisor and played himself in a brief role in the movie.
He said Thursday that he was happy with how the film turned out.
"Overall I think they were very authentic. I don't want to get too picky," Ammiano said.
He did add that he wished the movie had said more about Harry Britt, Milk's successor on the Board of Supervisors.
"He was a friend of Harvey's, and he did a great job when everyone was feeling that the world was falling apart," Ammiano said.
The roundtable at the GLBT offices tonight will end with a discussion between panelists and audience members.
"As much as we're excited for the panelists, we're also excited for the discussion with audience," Romesburg said.
"People have very strong feelings about the movie or their experiences in San Francisco at that time, so there's going to be a great dialogue we're going to have tonight," he said.

Copyright BAYCN - Bay City News