After publicly fighting with the California DMV, San Francisco-based ride sharing giant Uber is taking its driverless show on the road, to Arizona.
In a statement released to the press at about 12:30 Thursday, an Uber spokesperson says, "Our cars departed for Arizona this morning by truck. We'll be expanding our self-driving pilot there in the next few weeks, and we're excited to have the support of Governor Ducey."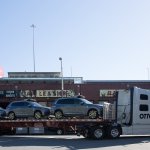 Uber also included pictures of the days' departure, and we've reproduced some of them here.
Wednesday night, Uber admitted that, because of fallout over its refusal to get a permit from the DMV, it has to put its driverless testing on hold in San Frrancisco. At the time, the company hinted that it would try to continue the program somewhere in California, but it seems the plan has since changed.
Scott rolls on Twitter: @scottbudman
Uber Update: "Our cars departed for Arizona this morning by truck. We'll be expanding our self-driving pilot there in the next few weeks." — scott budman (@scottbudman) December 22, 2016