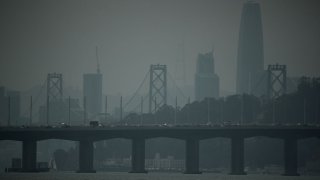 The Bay Area Air Quality Management District is extending an air quality advisory through Monday because of smoke drifting up from the Mineral Fire in Fresno County, along with other new vegetation fires in the region, air district officials said Sunday.
Winds are forecast to remain onshore across the Bay Area. Smoke will likely remain aloft resulting in smoky and hazy skies, but airborne particulate matter is not expected to exceed the national 24-hour standard. The air district will closely monitor air quality throughout the region for smoke impacts from the fire.
Smoke can irritate the eyes and airways, causing coughing, a dry scratchy throat and irritated sinuses, air district officials said. Elevated particulate matter in the air can trigger wheezing for asthma sufferers and those with emphysema or chronic obstructive pulmonary disease (COPD).
For real-time air quality readings, go to https://bit.ly/2p7UFgs
Copyright BAYCN - Bay City News