A badly burned body was found inside the West Oakland home where two Alameda County sheriff's deputies were injured by an explosion Tuesday morning while serving an eviction notice, a fire department spokesman said.
The county medical examiner was working to identify the body and the cause of death, Deputy Oakland Fire Chief Mark Hoffman said.
Deputies were entering the triplex at 14th and Peralta streets at about 11 a.m. when there was an explosion in the rear of the home, sheriff's Sgt. J.D. Nelson said.
The explosion set the home on fire and Oakland firefighters responded to put the fire out, Nelson said.
The deputies suffered minor injuries and were taken to Highland Hospital, according to Nelson.
Investigators are working to determine what prompted the explosion and whether the home had been booby-trapped or someone inside had caused it.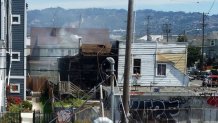 Jeremy Flieder told NBC Bay Area he owns the building. He said he was working on evicting his bottom-unit tenant, but his efforts to reach out to the "not very responsive" tenant had been unsuccessful.
Flieder said, when deputies showed up to help out with the eviction process on Tuesday morning, they found the key had been broken off.
"I had my guy open it up with a drill to destroy the lock," Flieder said. "What we think happened is that [the tenant] had opened a gas valve, the place had filled up with gas … so when he's (drilling) through, 'Boom!' That was it, and it just exploded, and we're like 'What the heck?'"
Flieder and the man doing the drilling were physically fine, he said, though a little shaken.
Trav McFay, 28, a restaurant manager took photos from his balcony of the aftermath. Smoke billowed from the smokestack of the burned-out house. McFay was Instagramming photos of the neighborhood with the hashtag #BreakingBadOakland because of the unusual scene.
Blake Godwin, was making furniture at his shop, Andrew Fisher Studios, when he saw the smoke rising in the air. He hopped on his bike and took a photograph of a fire truck racing to the scene.
NBC Bay Area's Jeff Clayton and Lisa Fernandez contributed to this report.