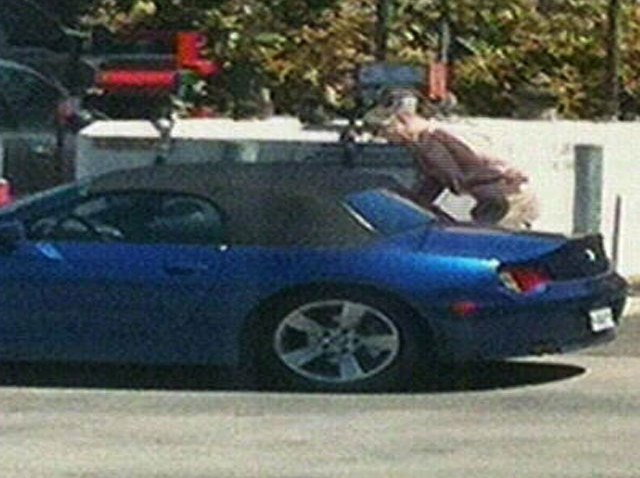 A Bay Area fire chief is in hot water after photos emerged showing him filling up his personal car on the city's dime.

The snapshots show Alameda Fire Chief David Kapler filling up his BMW coupe with city gasoline last Saturday. He told us he's done nothing wrong and says using city gas is part of the agreement he has with Alameda.

"As the fire chief, I'm expected to be available 24 hours a day, seven days a week." Kapler told us. "So, in turn for that, I'm given fuel for my car."

But not everyone in the city agrees. The president of the Alameda Firefighters Union believes the move was a bad one and released the following statement:
How can you close fire stations and fire engines and lay off firefighters, while allowing the fire chief an unlimited supply of fuel for whatever vehicle he chooses to put it in and for whatever use he wishes it to be, without accountability?
We obtained a copy of the employment agreement between the city and Kapler and found that it does allow Kapler to use his private vehicle for his "on-call" duties.

"As the fire chief, you're on duty 100 percent of the time. It doesn't matter where you are, what you're doing, what you're driving, if you're at dinner, church or whatever." Kalper said. "If you get a call, you're needed, you respond, so you're expected to be available all the time."

Kapler said he uses his other vehicle, a Honda Ridgeline, most of the time for city business. It's outfitted with a radio, lights and a siren. When he gases up, Kapler says, he always records it in the department log. But there are times when he drives his BMW.

Asked whether he believes it's okay that he uses city gas for personal use, Kapler said, "Yes, because it's in my agreement. It's in the contract that I entered into with the city when I came here that I would have personal use of my vehicle and fuel to use for it."

The agreement shows a $250 monthly allowance, but nowhere does it specifically say he can use city gas.

Kapler said he believes he's actually saving the city money by using his personal car for work because he's paying for the maintenance and the insurance, rather than the city of Alameda paying for it.

He says he's willing to sit down with the city manager to revise the agreement to make it more clear for everyone.

Alameda Mayor Becky Johnson says she's troubled by the issue and will ask the city manager to look into it.

"It does appear that he's filling a private vehicle at a city gasoline facility." Johnson said. "That would not appear to be an appropriate thing to be doing."