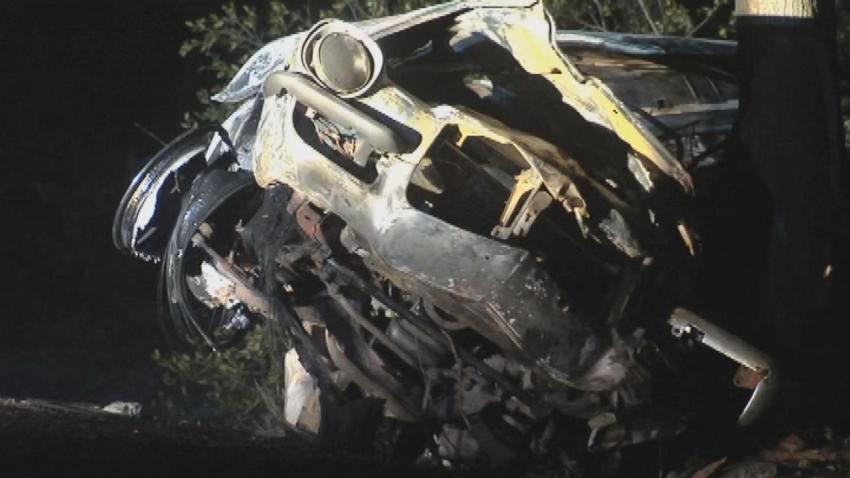 California Highway Patrol officers arrested a 28-year-old driver after a fiery crash — that authorities suspect was triggered by alcohol and speed — killed three of his passengers overnight.
San Pablo resident Justin Gardner was arrested on suspicion of driving under the influence of alcohol but other counts may be pending, CHP Officer John Fransen said.
According to the California Highway Patrol, the collision was initially reported at roughly 10 p.m. at or near the 6000 block of San Pablo Dam Road.
Gardner was speeding east in a 1971 Chevrolet Camaro on San Pablo Dam Road just east of Tri Lane around 10 p.m. when for some reason his car drifted into the westbound lane, Fransen said.
Officers said Gardner sideswiped a 2002 Honda Civic that was traveling westbound. Its 35-year-old female driver was uninjured and stopped her car in the road's shoulder, CHP officers said.
However, Gardner lost control of the car and slammed into a tree alongside the road. Since he wasn't wearing his seatbelt, Gardner was ejected from the car and suffered moderate injuries, according to Fransen. He was transported to John Muir Medical Center in Walnut Creek.
But his three passengers were not as lucky. Officers said they became trapped when the car exploded into flames, killing them.
Inside, a 26-year-old San Pablo man, a 23-year-old Richmond woman and a 24-year-old San Pablo woman died, Fransen said.
A Contra Costa County coroner's deputy said Friday that the victims' names have not yet been released.
After the accident, San Pablo Dam Road was temporarily closed to traffic between Orinda and Richmond.
People with information regarding the circumstances leading up to the collision or witnesses to the collision itself are asked to contact the CHP at (925) 646-4980.