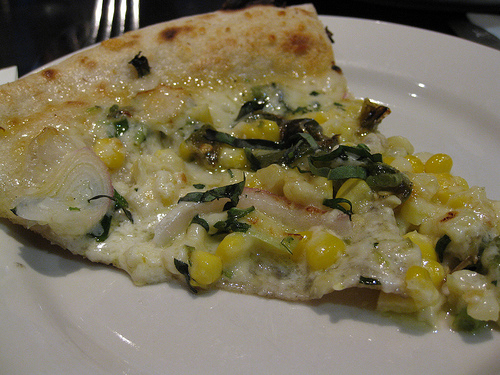 Rosso Pizzeria and Wine Bar in Santa Rosa is an Italian nod to the slow food movement that's been taking over the Bay Area, and in particular, Sonoma County.

With a philosophy of being "passionate about food, wine and soccer" and an emphasis on local, seasonal ingredients, Rosso feels like Alice Waters meets Mario Batali, Santa Rosa style. And I really can't be mad at that.

During my last visit, my dining group and I started with a corn and onion pizza while we sipped on our wine and beers.

Corn and onion is a curious combination for pizza, and while I liked it, I wasn't crazy about it. The saving grace was the thin crust, baked in a wood fire oven, giving it a wonderfully smoky flavor.

Next we split a Caesar salad.

Drizzled in a lemon anchovy dressing, sprinkled with gorgonzola dolce and topped with an extremely spicy dab of Calabrian chiles, this is one of my favorite Caesar salads, period. The super fresh anchovy garnish is the (seafood-y) cherry on top.

For my entree, I chose the Sicilian pizza.

This pizza had a noticeably thicker and chewier crust than the previous pizza, and came lightly covered in a saffron tomato sauce.

The saffron was almost undetectable but the toppings were incredible: oven-roasted artichokes, dry chorizo, mozzarella and arugula. Spicy, savory and smoky – this pizza is a winner. Next time, I think I may try the same pizza but topped with an egg.

Despite the slightly out of the way location in Santa Rosa, Rosso is nearly always packed for dinner. Service remains consistently brisk and friendly and somehow, the restaurant has found that hard-to-balance equilibrium of casual yet refined. They've built a strong following in the past few years, and I can't wait to see what they come up with next.
Mariam Hosseini is a Bay Area native who has been writing about food and travel for six years. She blogs regularly at yogurtsoda.com