A 6-year-old girl at the center of an East Bay Amber Alert has been found safe, the Alameda County Sheriff's Office announced Tuesday morning.
The girl's mother, 34-year-old Laquita Davis, was placed under arrest, according to the sheriff's office.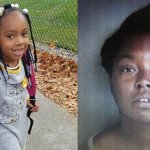 Issued by the California Highway Patrol on behalf of the Alameda County Sheriff's Office, the alert was in place in Alameda and Contra Costa counties.
The girl was kidnapped around 6 p.m. Monday by Davis, sheriff's officials said.
Davis fled on foot, officials said.
Further details were not immediately available.
Check back for updates.