San Francisco International Airport officials said a plane landing early Tuesday from Tel Aviv, Israel touched down safely despite someone pointing a laser at it.
The incident was reported at 5:50 a.m. and involved United Flight 955, officials said.

Police interviewed the plane's crew afterward the incident to try and gain more information. Unfortunately, the Federal Aviation Administration said laser pointing at planes have become common.
In 2017, there were more than 200 reported laser-pointing incidents at the three major airports in the Bay Area: SFO, Oakland International Airport and San Jose International Airport.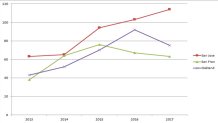 Both the FAA and FBI take laser-pointing incidents seriously because it can bring down an airplane if it blinds the pilots at the wrong time. But people aiming these lasers do not seem to be taking it as seriously as perhaps they should.
Across the United States in the last five years, the trend of laser strikes has steadily gone up -- although it did drop off last year from a high of 7,442.
At SJC, SFO and OAK, the major Bay Area airports have seen a similar trend with a drop off, except for San Jose. SJC saw 114 laser strikes in 2017.
In total, there were 252 laser strikes all three Bay Area airports last year.