A 42-year-old man suspected of fatally shooting a gas station clerk in Antioch on Monday was found dead near his car hours after being shot by an officer, police said.
Mohammad Jawad Ataie was killed during a robbery around 8:30 p.m. Monday at a Valero gas station at 1801 Hillcrest Avenue, police said. Police on Wednesday identified the suspect as Zepp Crouchet of El Cerrito.
"He looks like a common man," the victim's daughter, Nedah Ataie said. "You'd never think he could do something like that."

The suspect is accused of pistol-whipping Ataie, 57, before shooting him twice in the back. A police officer witnessed the robbery in progress and confronted Crouchet. He also discharged his service weapon, striking him in the torso.
Crouchet ran from the Valero gas station to his car and escaped, said police, who found his gun at the scene.
Crouchet was found dead on the sidewalk early Tuesday on the 100 block of West 20th Street, less than a mile from the crime scene. It remains unclear why he stopped there, police said.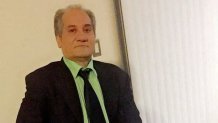 Despite "putting a face to the person who killed my father," Nedah Ataie said Crouchet's death didn't alleviate her family's grief.
"I'm not going to say I'm glad he's dead because he also has a family," she said. "I give my condolence to the family, but it's not going to bring my father back."

As of Wednesday morning, a GoFundMe page for Ataie has raised more than $29,000 although the goal was $25,000. Ataie died within hours of being beaten and shot, and is survived by a wife of 25 years and their three children.
"If my dad can hear me right now I would tell him I miss him, I love him and he'll always be in our hearts," Nedah Ataie said. "God has put the patience in my heart where I can now accept he's gone."

The Antioch Police Department and the Contra Costa County Office of the District Attorney are investigating the string of violence.
People with information about the crime are asked to call Det. James Colley at 925-779-6922. Tips can also be texted to 274637, using the key word "Antioch."