San Leandro police have arrested an outstanding suspect from a rolling gunbattle that wounded another suspect and an elderly couple in November, recovering a cache of drugs and weapons in the suspect's apartment, police said Wednesday.
Officers served a search warrant at the suspect's apartment on Tuesday and seized more than $250,000 in cash, 6 pounds of marijuana, an AK-47 assault rifle and three handguns with 100-round magazines, police said.
Police investigated the shootout for months. It happened at about 12:30 p.m. on Nov. 17 in the area of MacArthur Boulevard and Interstate 580.
As the occupants of two cars exchanged gunfire, one of the cars, a Nissan driven by a 33-year-old Oakland man, crashed head-on into an elderly couple's Toyota Prius in the 300 block of Dowling Boulevard. The couple was seriously injured in the crash.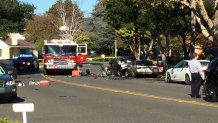 The Nissan driver had apparently been shot and was found near the crash scene. He was taken to a hospital for treatment and was later arrested on charges related to the shootout and reckless driving, police said.
The driver of the other car, believed to be a black 2015 Dodge Caravan, fled the area and remained at large until this week.
Police planned to hold a news briefing Wednesday to provide more information about the arrest.