Downtown San Jose just got another pop of color thanks to the latest mural celebrating the city's logo.
The new mural can be found at the corner of Santa Clara and Third streets and features colorful plants and flowers surrounding the city's new logo.
The City of San Jose commissioned artist Alyssa Wigant, who spent Memorial Day weekend completing her first large scale mural project. She was assisted by graphic artist Ryan Ruiz.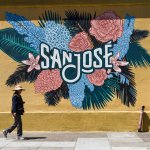 "Still so grateful for this project, and for the way it's going to bring a lot of people together," said Wigant.