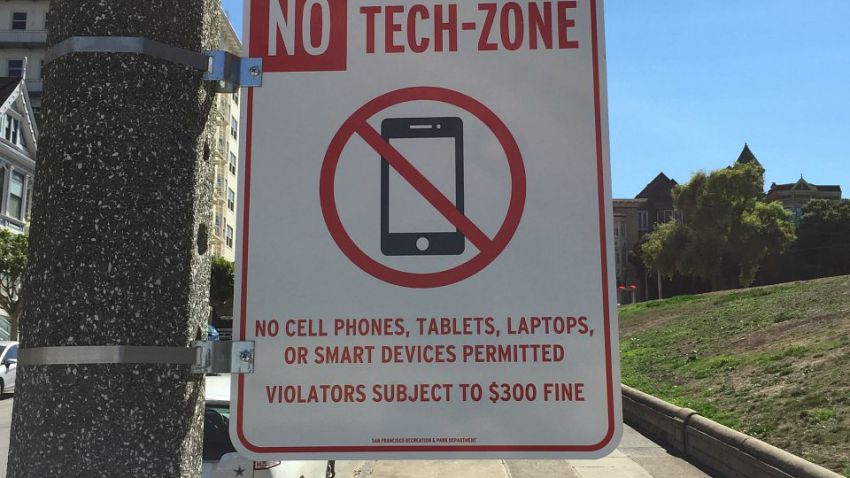 A San Francisco based artist has claimed responsibility for a mysterious "No Tech-Zone" sign that was posted near Alamo Square last month.
The sign, which beared the San Francisco Recreation and Parks Department name without permission, read in red, "No cell phones, tablets, laptops or smart devices are permitted" and declared that violators would be subject to a $300 fine.
It was removed from Alamo Square's vicinity after a day or two, but more signs have since popped up in Dolores Park, Duboce Park and back in Alamo Square, according to The Guardian.
Ivan Cash told the publication he created the sign not as slander to the tech world, in which he has several clients, but to point out a larger problem.
"The tech industry employs my friends, creates products and services I love, and helps pay my bills," he said. "I see this as a broader issue, one facing the global community as more and more people across the world own smartphones. It just so happens to be heightened in San Francisco."
"I hope these signs put a smile on people's faces," he later added on his Facebook page. "I hope they spark conversation about what role we want technology to play in our lives and our environment. I hope they inspire us to think more critically about technology and maybe even to leave our phone at home one day a week. Or resist the impulse to check our phone the moment we walk out of a movie theatre. Land in an airplane. Stop at a red light. Wake up in the morning. Sit on a park bench. Or finish reading this."
(function(d, s, id) { var js, fjs = d.getElementsByTagName(s)[0]; if (d.getElementById(id)) return; js = d.createElement(s); js.id = id; js.src = "//connect.facebook.net/en_US/sdk.js#xfbml=1&version=v2.3"; fjs.parentNode.insertBefore(js, fjs);}(document, 'script', 'facebook-jssdk'));
NEW WORK: 'No Tech-Zone' signs installed in parks across San Francisco: https://vimeo.com/141369561Big thanks to all... Posted by Ivan Cash on Monday, October 5, 2015
Copyright FREEL - NBC Local Media