Authorities in Hayward on Monday charged 59-year-old David Misch in the cold case kidnapping and killing of 9-year-old Michaela Garecht, who disappeared 32 years ago.
Hayward police Chief Toney Chaplin, Alameda County District Attorney Nancy O'Malley and FBI Special Agent in Charge Craig Fair revealed the breakthrough in Michaela's case during a news conference Monday at Hayward City Hall.
Michaela was kidnapped in November 1988, after she and a friend rode scooters to a local market, police said. A man grabbed her and pulled her into a vehicle in the parking lot of the Rainbow Market, 32575 Mission Blvd., then drove off. That was the last time Michaela was seen.
Police said they were only recently able to match a partial palm print at the scene to Misch.
But Michaela's body has never been found.
"In the last year, I had to come to a place accepting that Michaela was probably no longer alive," Michaela's mother, Sharon Murch, wrote in a statement. "But somehow, that acceptance was far more wrapped up in the idea of Michaela sitting on a fluffy pink cloud walking streets of gold, dancing on grassy hills, soaring among the stars. What I did not envision was my daughter as a dead child.
"It was only when I heard this news that this vision of reality appeared and I honestly have not figured out what to do with it."
On Nov. 19, 1988, Michaela and her best friend rode their scooters to the market in Hayward — their first trip there without teenage neighbors — to buy a snack just days before Thanksgiving.
They left their scooters outside.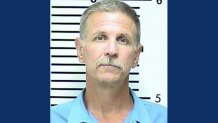 Officials allege that Misch moved one of the scooters to isolate one of the girls. When Michaela went to retrieve it, he forced her into his car and drove away. The palm print — which was too small to be scanned through a computer database and had to be analyzed manually — that led to Misch's charges was found on the scooter.
The Rainbow Market has since been operating as Mexico Super for several years.
The kidnapper was described as a man between 18 and 24 years old with a slender build, about 6 feet tall and weighing about 180 pounds, police said. He had dirty blond, shoulder-length hair.
Misch would have been about 27 at the time.
Misch, now 59, was charged Monday with murder and kidnapping. He is being held in jail and is scheduled to be arraigned Tuesday. It was not immediately clear if he had an attorney who could speak on his behalf.
Misch was already serving a prison sentence for the 1989 murder of a woman in the Hayward area when Monday's charges were announced. He is also a suspect in a 1986 case where two women were killed in Fremont.
In Michaela's case in February 2012, a bone fragment was found in a Central Valley well that authorities believed belonged to a girl between age 5 and 14 and was linked to the "Speed Freak" killers Wesley Shermantine and Loren Herzog. But further analysis showed it was not Michaela's.