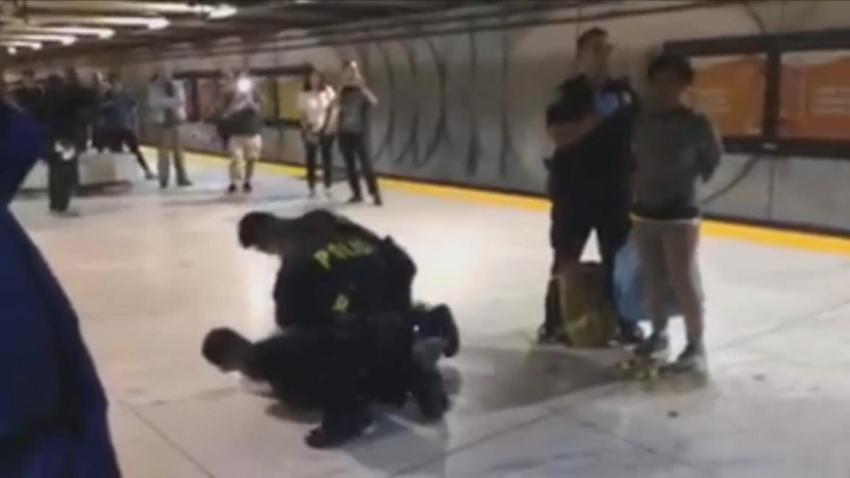 Some members of the public are up in arms after four BART police officers pinned a man face down to the ground during an arrest attempt Friday at the San Francisco Embarcadero Station.
Several eyewitness testimonies posted on social media claim that two people, a man and a woman, were being detained when the police reportedly used unnecessary physical force to apprehend the male.
Cell phone footage captured at the scene portrays two officers pinning a man to the ground as he squirms and attempts to evade arrest. The police officers position their knees on the man's back and legs to prevent further movement before the man appears to say something to one of the officers, prompting the officer to punch the man in the face.
BART issued its side of the arrest in a statement.
The transportation service reported that officers were instructed to detain suspect(s) involved in a possible armed robbery attempt onboard one of their trains. After locating the presumed suspect on a train at the Embarcadero Station, police removed a man from the train and attempted to make an arrest. The male suspect was allegedly uncooperative and resisted, leading officers to resort to physical force.
Later investigation revealed that the original armed robbery attempt was actually a verbal argument between the suspect and the victim, BART said. The suspect made threats to rob the victim, but no weapon was present.
After being detained by BART police, the male suspect was arrested for two counts of resisting arrest and five counts of battery against a law enforcement officer, BART said.
A BART spokesperson said that the officers' body cameras were turned on and an investigation is in the works.
"I have full faith that our officers will fully investigate and find out what happened," the BART spokesperson said.
A protest of the arrest is scheduled for 2 p.m. Saturday afternoon in San Francisco.