A pending BART strike is set for midnight tonight, but there were new signs of progress from the negotiation table late Saturday simply in the fact that talks lasted 13 hours and did end until about 11:30 p.m.
Both sides said they would be back at the bargaining table at 11 a.m. Sunday.
A gag order keeps negotiators from giving details on the progress.
Going into the weekend it appeared the unions and BART management were far apart on the main sticking issues of pension, health care and wages.
A 72 hour notice has been called for a possible strike that would begin at midnight Sunday night.
MORE: BART Strike Resources
Caltrans recommends commuters do the following if there is a BART strike.
Telecommute or avoid traveling altogether.
Form a carpool or try casual carpooling.
Take advantage of free parking at any BART station or Park & Ride lot to meet your carpool.
Adjust work hours (leave early or stay late).
Ride a bike.
Allow extra time for trips.
"Our team is giving it our best shot. We really do not want to disrupt service Monday,'' Antonette Bryant, president of Amalgamated Transit Union Local 1555 said Saturday. "We want a deal. We will do whatever it takes.''

BART spokesman Rick Rice said agency managers are hopeful they can reach an agreement before Monday or continue negotiations without a service shutdown.

"We're making every effort possible to avoid any disruptions on Monday,'' Rice said Saturday
If a strike is called, more ferries and buses will be deployed to get commuters across San Francisco Bay. Carpool lanes will be open all day, not just for rush hour. And gift cards for coffee will be handed out to drivers who pick up riders.

No matter what Bay Area transit agencies do, however, to lessen the impact of a looming strike Monday by Bay Area Rapid Transit workers, officials say there's no way to make up for the idling of one of the nation's largest transit systems.
BART carries more than 400,000 commuters a day, keeping them off the roads in a region routinely choked with traffic.

"The inescapable fact is BART's capacity can't be absorbed by the other transit agencies,'' said John Goodwin, spokesman for the Metropolitan Transportation Commission. "We're still hoping for the best, but it's time to prepare for the worst.''
As the union and the transit agency continue negotiations, with key sticking points focusing on worker safety, pensions and health care costs, commuters are bracing for what could be the second BART strike in a month.
When transit workers shut down train service for four days in early July, roadways were jammed and commuters faced long lines for buses and ferries. The unions agreed to call off that strike and extend their contracts until Sunday while negotiations continued.

"I didn't really fully appreciate the magnitude of disruption of my commute,'' said Oakland resident Benny Martin.

Martin, 32, said the short trip to his law firm in downtown San Francisco took him two hours each way. If BART workers strike next week, he just won't go into the office. "It's just not worth it for me.''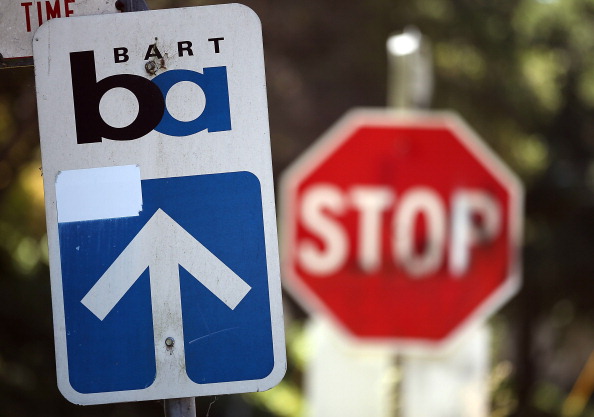 A strike next week could cause more traffic mayhem than last month's work stoppage, which came around the Fourth of July holiday.

"Without having a holiday in the middle of the week, there's a potential for much greater congestion on the roadways,'' Goodwin said.
At a news conference Friday, Bay Area and state officials called on BART managers and union leaders to reach an agreement, saying a strike would create financial hardship for working families and hurt the Bay Area economy.

"We need an agreement and not a strike in our BART Service,'' San Francisco Mayor Ed Lee said. "They need to know that it is no longer a matter of inconvenience to the ridership. It is hardship.''

On Thursday, two transit unions issued a 72-hour strike notice. The nation's fifth-largest rail system, BART carries passengers from the Bay Area's eastern suburbs across the water, through the city and to San Francisco International Airport.

The unions - which represent nearly 2,400 train operators, station agents, mechanics, maintenance workers and professional staff - said they plan to participate in labor talks up until the contract expires at midnight Sunday in hopes of averting a strike.
Bay Area transit agencies and employers are making preparations for a possible strike:
BART, which cannot hire any replacement workers, will hire about 95 charter buses to transport commuters from its train stations. It will offer free parking at its train stations to make it easier for people to carpool.
The Alameda-Contra Costa Transit District plans to add an unspecified number of trans-bay buses.
The San Francisco Bay Ferry will increase the number of city-bound ferries in Oakland, Alameda and Vallejo.
The California Highway Patrol will keep carpool lanes open from 5 a.m. to 7 p.m. rather than closing them during the day.
The MTC will hand out $5 Peet's Coffee gift cards to drivers who pick up riders heading back to the East Bay.
Ridesharing and peer-to-peer taxi services saw a big jump in business during the last BART strike, and they could be even busier if workers strike again next week.

Sidecar, whose mobile app allows drivers to pick up people heading in similar directions, experienced a roughly 50 percent increase in drivers and riders during the last strike, said spokeswoman Margaret Ryan.

"We're gearing up for a big week,'' Ryan said Friday. "We are mobilizing our drivers and encouraging them to get out on the road next week.''

The transit agency has said employees with its two largest labor unions average about $71,000 in base salary and $11,000 in overtime annually. The workers pay nothing toward their pensions. BART says it needs to save money on benefits to help pay for system improvements.
"Although I am a union member myself, I think what they are asking for is a little extreme,'' said Brenda Cooke, 74, of Concord. She will try to shift her work hours if there's a strike next week. "It will be an adventure as long as it doesn't go too long.''
Copyright AP - Associated Press