BART police on Monday arrested a 42-year-old Berkeley man accused of attacking two men during two separate assaults on trains over a recent three-day span, according to the transportation agency.
The arrest following the "unprovoked" assaults, which left two victims with non-life threatening injuries, came just hours after BART released images of the wanted suspect to the public, according to BART Police Department Deputy Chief Ed Alvarez.
"It was a great collaborative effort from our media partners, just people watching the news and getting the description and the photo," Alvarez said. "Within 2.5 hours, we had somebody in the city of Oakland locate him and call it in to the police."
The suspect has been identified as Mario Washington.
An Oakland Fire Department investigator around 8:39 a.m. saw the suspect, who has yet to be named but is described as a man is his 30s out of Berkeley, walking around Oakland near 9th Street and Broadway, according to Alvarez. The investigator called in the location of the suspect and later flagged down a BART patrol sergeant, alerting the officer to the location of the suspect. BART officers eventually found and arrested Washington, who does have a criminal history, Alvarez said.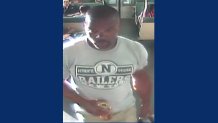 The first attack linked to Washington occurred on Thursday on a train travelling between the San Leandro and Bay Fair stations in the East Bay, according to BART police. Washington in that incident is suspected of hitting another man in the head with bolt cutters, leaving the victim with a laceration on his head. Washington also allegedly punched and kicked the man before running away from the station, police said.
Alvarez added that Washington was holding a can of beer before the attack. It is not clear if he was under the influence at the time.
Two days later, Washington was riding on a train headed for the Embarcadero Station in San Francisco when he allegedly hit a man in the face before fleeing the scene, according to BART police. The victim and suspect did not know each other.
"These attacks were unprovoked, which is pretty concerning for us that our patrons are out there getting assaulted by this individual," Alvarez said.
Washington on Monday was transported to the Alameda County Jail for booking. name.
No robberies occurred in either attack, according to BART police.
Commuters should expect to continue to see officers on BART trains amid the recent episodes of attacks and robberies.
Anyone with more information regarding the attacks is asked to call BART police at 510-464-7020.