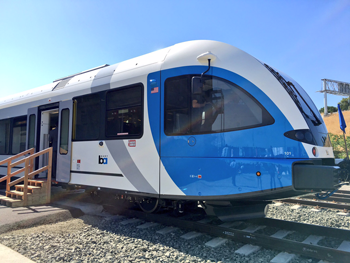 After months of trouble, some good news is finally coming from BART's East Bay line.
The transit system on Thursday unveiled a new line of diesel cars that will travel on the soon-to-be finished 10-mile Antioch extension, which is scheduled for completion in the winter of 2017/2018.
The diesel trains sport a sleek blue design, allowing it to stand out from its white and boxy predecessors. Eight of the new cars are expected to arrive by December of next year, according to a news release.
All told, the extension comes with an estimated price tag of $525 million. The new station will be located along Highway 4, near the Railroad Avenue exit in Pittsburg and Hillcrest Avenue in Antioch.
BART staffers touted the unveiling as a milestone in its efforts to modernize its transportation services.
"We've been working on the arrival of BART to this part of the Bay Area for years, so it's both thrilling and a bit surreal to finally be here aboard these amazing new vehicles," said BART Director Joel Keller.
The modernization plans also include the announcement of a "Fleet of the Future," which is supposed to roll out along all BART platforms.
The new trains will be able to shuttle about 2,400 people per hour during commute hours, according to BART officials. BART expects daily ridership to start off around 5,600 and jump up to 10,100 by 2030.