Caitlyn McElligott worked for the last three years researching and raising awareness about Trisomy X, a condition affecting approximately one in 1,000 women.
McElligott's work has now been recognized by the Girl Scouts of America for their highest honor of a National Woman of Distinction, given to 10 women annually.
McElligott, a freshman at San Francisco State University studying environmental science, has received letters from the White House, State Senate and various offices thanking her for her involvement and recognizing her for the achievement.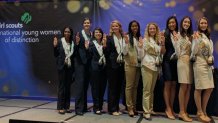 Diagnosed with Trisomy X early in life, the now 18-year-old McElligott wanted to share her findings with others since she said many women do not receive a diagnostic.
"Caitlyn is incredible," Girl Scout leader Cindy Carrasco said. "For our troop to see Caitlyn go through the Gold Award and share her website on their Facebook pages or help in that small way to raise awareness for what she was doing, it brought the troop closer together."
Caitlyn represented the Girl Scouts of Northern California, which has had a member win the prestigious national recognition consecutively since 2013.
Other projects recognized this year by Girl Scouts of America ranged from research on Ebola to a documentary on heroin use.
With projects so diverse, McElligott, who grew up in Redwood City, said the goal is to change the world.
Lack of Awareness
Following her diagnostic, McElligott did some research on Trisomy X, browsing through the limited information she said she could find.
"Not much," she said. "There's a bunch of high schoolers who talk about it for school - no doctors really.
In addition to speech delays, learning disabilities and other symptoms for women with the extra chromosome, she wanted to highlight some of the benefits, or "superpowers" of the extra chromosome.
Women with Trisomy X tend to have an extra tall stature and, according to McElligott, beautiful eyes with a sensitive, caring personality.
McElligott estimates that about 2,000 Girl Scouts nationally could have Trisomy X.
Three million people have visited McElligott's site, more than three times her initial goal.
"I want them to have the correct material," she said.
She hopes her work will add to information on Trisomy X and correct labels placed on women with the condition.