Summer hasn't even officially started, but extreme heat will roast the Bay Area Thursday afternoon.
Here's a look at just how hot it could get in various locations, according to the National Weather Service.
Cloverdale: 107 degrees
Santa Rosa: 103 degrees
Napa: 99 degrees
Fairfield: 106 degrees
San Rafael: 100 degrees
Concord: 107 degrees
San Francisco: 81 degrees
Livermore: 106 degrees
Half Moon Bay: 77 degrees
San Jose: 98 degrees
Santa Cruz: 94 degrees
Hollister: 98 degrees
Monterey: 80 degrees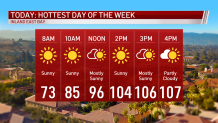 The sizzling heat could break several record highs across the Bay Area.
Much of the region is under either a heat advisory or excessive heat warning.
A statewide Flex Alert has been issued for Thursday evening from 5 p.m. to 10 p.m. A Spare the Air alert has also been issued.