Many hospitals across California are not ready for an earthquake. Some have not made necessary upgrades to their buildings in decades, and state law doesn't require them do so for another five years.
In the moments after an earthquake, the most critical buildings are "acute care" facilities—hospitals that are equipped to provide short-term and emergency services. In the Bay Area, state documents reveal that a third of "acute care" hospitals will likely collapse during a strong earthquake.
That's exactly what happened on Feb. 9, 1971 at Olive View Medical Center in Southern California. A magnitude-6.6 earthquake struck Sylmar, killing 65 people, including four at Olive View Medical Center.
"I felt it was just seconds the building was going down" said Jim Hazard, who was working on the 2nd floor as a psych attendant when it collapsed. "I knew major structural damage had occurred."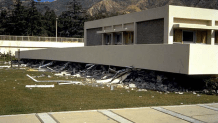 Hazard and a co-worker, Cynthia Smith, helped their patients escape. "For me, it was take care of my patients, make sure everyone is safe and then I can go into shock," Smith said.
The hospital was rebuilt and now meets all state safety standards. "Theoretically we should be able to withstand an 8.0 on the seismic scale," Olive View Medical Center CEO Carolyn Rhee said.
The tragedy of the 1971 earthquake prompted California lawmakers to pass a law. The law required that acute care hospitals be designed and constructed to withstand a major earthquake and remain operational immediately afterward.
21 years later, the 1994 Northridge quake in Los Angeles crippled hospitals, forcing some to temporarily shut down. That earthquake revealed weaknesses in the Alquist law, leading the legislature to strengthen safety standards with Senate Bill 1953. More than two decades after that law was passed, hospitals still aren't required to make changes because the deadline keeps getting pushed back, first from 2013 then to 2020 and 2030.
"If I had a magic wand, I'd make it happen today, but I don't so we work with hospitals to try and help them to come up with ways to meet the standard," said Paul Coleman, Deputy Director of The Office of Statewide Health Planning and Development (OSHPD). OSHPD is responsible for enforcing hospital laws.
Right now, hospitals face two deadlines. The first is in 2020 and requires all acute care facilities be able to withstand a strong earthquake. The NBC Bay Area Investigative Unit looked through state data, which revealed, as of Jan. 15, 2015, 34 percent of Bay Area hospitals have not met that deadline.
That's 29 out of 84 hospitals that face a significant risk of collapse during a strong earthquake.
Santa Clara Valley Medical Center, Stanford Health Care and Alta Bates Medical Center are among those 29 hospitals still using buildings considered at risk of collapsing.
All three hospitals emailed the NBC Bay Area Investigative Unit statements stating they will meet the 2020 deadline.
Paul Coleman agrees. "Right now hospitals are on track to meet that first target," he said.
By 2030, hospitals must be capable of staying open and operational immediately after a strong quake. More than half of the acute care buildings in the Bay Area have not yet met that deadline.
"It's critical to do this kind of work to prepare for earthquakes," said Glen Granholm, a contractor who helps hospitals across the state meet the mandate. As deadlines continue to change, he sees hospitals putting off potentially life-saving work. "Because the target has been a moving target, maybe some facilities take a look at this and go, well if we wait awhile, it might change, the mandate might change, the date might change, we don't have to do it right now," Granholm said.