When you walk inside Joe Murphy's East Bay art studio, the first thing you notice is the abstract paintings tacked to the beige walls. The rainbow pieces, like the artist himself, cloak the small room with a welcoming, tranquil energy.
"I try to always think about what the pieces I'm making represent," Murphy said, waving a hand toward the artwork, which subtly resembles the bubbling liquid inside a lava lamp. Round circles dart off in different directions, and although each piece is unique, they are unmistakably part of the same set. "It's important to me to have the space reflect the work that's being done here."
It's an apt aesthetic. Aside from serving as a deliberately groovy place to unwind, the studio is the creative lab for Murphy's magnum opus: the peace chain project, in which he attempts to promote peace through wearable artwork. As part of the undertaking, the 51-year-old artist handmakes small ceramic pendants that symbolize unity and distributes them at festivals, events, and wherever else he happens to be, from the aisles in a local grocery store to a Buddhist retreat in Myanmar.
[[419630913, C]]
"It's my way of spreading peace, piece by piece," he said, earnestly. "To brighten someone's day — or to remind them, especially now, when it feels like we're all divided — that they are a part of something bigger."
Since starting the peace chain in 1991, Murphy said his project has transformed from a grandiose idea thought up by an idealistic twenty-something into a structured creative process that has sustained him throughout his adulthood. Originally he wanted to make a monument, but all he could afford back then was a bag of clay. So, he settled for the pendants.
Since then, he has made more than 593,625 of them, earning him the local notoriety and the nickname "the peace chain guy."
He works on the project almost every day and keeps meticulous records of his progress. Trays of unfinished pendants sit on metal racks in his studio, waiting to undergo a laborious molding, baking and painting process that will end with him writing down the new tally in a thick, well-worn notebook.
The finished pendants, round and smooth to the touch, are designed to give the wearer a sense of serenity, or of wholeness, he said. Each one is engraved with the word "peace," and, in an effort to be all-inclusive, Murphy has painstakingly made versions in more than a hundred different languages. He handpaints them in violet, blue, sienna and earthy-green shades.
Murphy credits the 1967 Summer of Love — an infamous period largely defined by Bay Area music festivals — as a significant inspiration. He plans on attending the spate of commemorative events scheduled for the season's 50th anniversary, an opportunity that he says is tantamount to coming full circle.
"I was really inspired by that time in my formative years, and the atmosphere of that period," Murphy said. "Me being a young creative person saw that, and thought, 'how can I present my artwork in a similar way?'"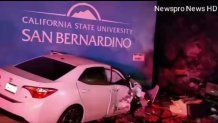 Murphy dislikes the term "selling" and instead offers the peace chains on a donation-only basis, calling it his "sliding scale between zero and infinity." When one person donates, it triggers a chain reaction that not only sustains the project, but also allows him to distribute additional charms for free and creates layers of connection between the purchaser and the pendant owner. The project owes its "peace chain" name to that ripple effect.
"Each piece is a part of one whole," he explained. "I really think of it as one chain, with a lot of little pieces to it."
He says he still gets a rush from seeing someone wearing one of his creations. Some owners send him updates through his website, and he has also been pleasantly surprised to have spotted them in unlikely locations.
"There have been sightings of the pieces on every continent, including Antarctica," Murphy gushed. "I've also seen them in the middle of the country too, like at a gas station in the middle of Kansas. I said, 'Hey, I made that!'"
Yet the gratification he gets from knowing his artwork is seen and recognized isn't the objective of the peace chain, and it never has been, he said. It's ultimately about fostering connections and spinning a web of positive and inclusive energy, a mission that he sees as a life-long endeavor.
"I'm going to make do this for the rest of my life," he said. "It's about reminding people that we're all interconnected. It's not the pieces themselves that are important, but everyone in between – all of us."
The project may not be the monument he dreamed of in his youth, but it is, without a doubt, a monumental feat.