Starting with the very first Russian language course Joseph Kautz ever took as a college student in Nebraska, all the way up to his position as Head of Stanford University's Digital Language Lab for fifteen years, there was one thing that Kautz always loved about being an expert in languages.
It had, however, nothing to do with language.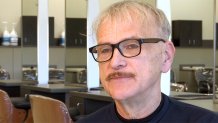 "When I told people I was studying Russian they 'oohed and ahhed' and I was so shallow and insecure I needed that 'ooh and ahh' and I followed that all the way to Stanford," Kautz admitted.
Shallow, insecure, and as Kautz sadly confesses, "intolerably arrogant," too.
Now, just a few years later, Kautz is doing his best to be the opposite of all those things. He is the founder of Tent City Barbers, a non-profit providing free haircuts for those in need.
The change began when Kautz took a long, hard look at himself and realized how poorly he had treated others throughout his life. Around that time, Kautz also stumbled upon a documentary film by comedian Chris Rock called "Good Hair." He was captivated by it. "I must have watched it 30 times," Kautz said.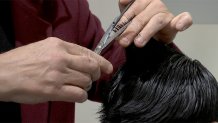 The film rekindled in Kautz a love of hair and hair styling that began when he was a little boy and would style the hair of his cousins and put on impromptu "hair shows." The passion was pushed aside as he grew older because he didn't feel it was a "serious" line of work.
Telling someone you are a hairstylist didn't elicit the "oohs and ahhs" that his Russian studies did.
Hair, however, was now going to be the key to Kautz making over his life. Working as a stylist, he would finally be doing a job that brought him joy. And, by volunteering to give free haircuts to people living in homeless shelters and encampments, Kautz would be doing "penance" for his years of mistreating others.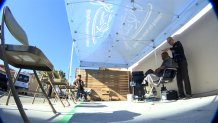 "I want to give them a break from just unspeakably difficult circumstances. Just for 20 minutes, I want to pamper them," said Kautz.
But as Kautz says, he needs them more than they need him.
"They lead me out of this place where I'm just focusing on myself and been kind of a bridge out of myself and a bridge out of fear and a bridge out of ego," said Kautz.
In return, Kautz offers them what he calls a mini vacation from a life that's anything, but one.
"I know that this is making a difference and this is one thing I'm doing right with my life and I'm going to run with that."