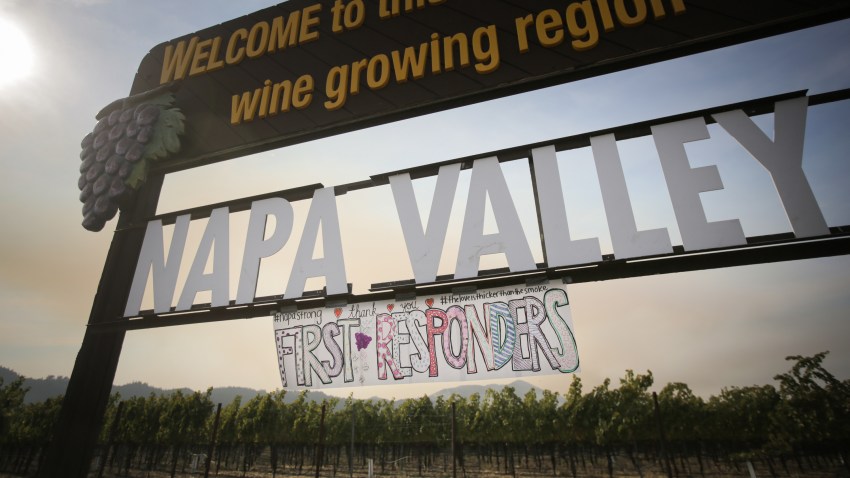 People in the Bay Area are coming together in support of the family of a Missouri water tender driver who was killed as he helped defend homes of people he had never met from one of California's most destructive wildfires.
Garrett Paiz, 38, was killed when his truck overturned on Oct. 16 on a winding Napa County road. He had been delivering water to crews battling the Nuns Fire, but crashed before dawn as he headed from vineyards into the mountains.
"My feeling is that he lost his life protecting our homes and businesses and the least we can do is help out his family," said Galen Drace, 35, of St. Helena.
Although Drace's neighborhood was not affected by the fires, he spent time volunteering at the Marin Civic Center Shelter that drew hundreds of evacuees. Upon hearing of Paiz's death, Drace wrote a Facebook post, encouraging the Napa community to rally around his family.
When he went to start a fundraiser on Paiz's behalf, Drace found a GoFundMe campaign that had been initiated by Heather Ascherin Morway.
The Red Bluffs woman expressed condolences on behalf of Tehama Transport, a freight shipping and trucking company where Paiz worked as a driver.
The GoFundMe account has a goal of $20,000. As of Tuesday, 131 people have donated over $10,000.
The money will "go directly to his family to aid them as they grieve and memorialize his life," Morway wrote on the fundraiser's website, promising that Paiz "will never be forgotten."
Drace has helped get the word out — despite not being connected to Morway or Tehama Transport. He commended the public's generous response to the effort.
"I think many share my opinion that it is our responsibility to help. He came from out of state and died protecting people he had never met. We owe him and his family a debt," said Drace, whose friends have lost their homes, jobs and wineries.
However, Drace, who works at a St. Helena winery, stressed that Sonoma and Napa valleys continue to be in dire need of help — even broad swaths of both areas that have been unaffected by the blazes.
As things stand, businesses are reeling from a staggering number of cancellations in the wake of dozens of wildfires that burned more than 220,000 acres, chased thousands from their homes, and claimed at least 42 lives.
"If we don't see more visitors in these valleys, we are going to have a lot of people go out of business," Drace said. "I do think these fires have brought our communities closer; the outpouring of support has been amazing. We just need people from outside of the area to stop cancelling their trips."