Chances are if you've been to a Bay Area rock concert in the last 40 years, you've encountered Jay Blakesberg at work on stage. He was the guy behind the camera.
And after decades focusing his lens on some of the biggest names in music, the prolific rock 'n' roll photographer is the star of his own career retrospective titled Dark + Light, opening in San Francisco's Harvey Milk Photo Center this Thursday.
For the show, Blakesberg pared down what he estimates are more than two-million photos taken during a 40-year career, into 140 pictures lining the walls of the photo center, with even more on display in the San Francisco Parks and Rec Department's McLaren Lodge in Golden Gate Park.
"When people look at my photographs," Blakesberg said, "I want my photographs to take them to another place."
Blakesberg was around 16 years old in New Jersey when he began borrowing his father's camera to take photos and develop them in his basement. Soon he was sneaking his camera into rock concerts to photograph bands like Led Zeppelin and Crosby Stills and Nash.
"I was bringing my camera to concerts," he said, "because I wanted to create my own memorabilia to hang on my bedroom wall."
It was the Grateful Dead that lured Blakesberg West. Inside the photo center where he was setting up for his show, he pointed to a picture of the band taken in San Francisco in 1978. He rode a Greyhound Bus across the country to see the concert — and ended up staying.
"I'm not an L.A. guy, I'm not a New York guy," Blakesberg said. "I've always been based in San Francisco."
The photos themselves are embrued with stories — both conveyed in expression and setting — but also in Blakesberg's account of each session.
He photographed Tom Waits playing a tiny piano in the Petaluma recording studio closet where the artist preferred to record. The photo of Jerry Garcia strumming a guitar was taken in mandolinist David Grisman's Mill Valley home. He took the portrait of Emmylou Harris at the Hardly Strictly Bluegrass Festival where Blakesberg has been a staff photographer for the last 16 years.
He photographed guitarist Roger McGuinn at a Byrds concert back in New Jersey in 1979 while Blakesberg was still in high school. Decades later he was taking a portrait of McGuinn in his San Francisco photography studio when he pulled out the earlier photo to show the musician.
"We look at this photograph and I notice the date, April 14, 1979," Blakesberg said. "And this was April 14, 2004 — 25 years to the day later."
He points out a picture of Bono spray painting the Vaillancourt Fountain in 1987. It was Blakesberg's first assignment for Rolling Stone Magazine. His photo of Jefferson Airplane's Jorma Kaukonen, taken when the photographer was 16, was the first picture he ever sold to a magazine.
"Nowadays we're published every day; Instagram, Facebook, social media, Snapchat," he said. "Back then a photograph in print in a magazine was a pretty monumental thing."
Blakesberg's photos are a mixture of live concert action — and thoughtful portraits posed in what appears as fussily crafted settings — which isn't necessarily the case. The Richard Avedon-esque black and white of John Lee Hooker was taken with a white sheet for a backdrop in the musician's Redwood City garage. Another photo of Tom Waits was taken behind a shed. Waits didn't want to sit for the shot until Blakesberg took a polaroid to convince him of the pose.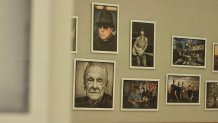 "I don't want to put out pictures of people looking bad," Blakesberg said of his loyalty to his subjects, "or doing things they might not want the public to see."
Blakesberg has long straddled the worlds of analog and digital photography. The show is split into two walls — analog on one side, digital on the other. Blakesberg said he's a bit nostalgic about his thousands of hours spent in darkrooms watching photos slowly come to life in a pool of chemicals. And yet, he said he wouldn't go as far as saying he actually misses it. He doesn't. These days he only shoots digital.
He said he's shot a million, three hundred thousand digital files since 2004. And probably another million photos on film. Many of those photos were taken of his childhood favorites, the Grateful Dead, whom he has followed for decades — including snapping the band's iconic 50 year anniversary in 2015. Blakesberg's photo is taken from behind the stage with the band posing with the crowd at its back.
Blakesberg still marvels that he's gotten to photograph so many of his childhood idols — and is now folded into a plethora of musical families.
"I'm a working photojournalist, I'm a working commercial photographer," Blakesberg said. "And I happened to get lucky enough to do it all in sort of the rock 'n' roll world."