The Bay Area sailor who set off last Fall to become the first person to sail solo around The Americas and Antarctica all in a single season is scrubbing his journey following a pair of storms that damaged his boat. Just don't count Randall Reeves out entirely.
"I just made some mistakes," Reeves said from Tasmania where his boat is undergoing repairs. "I didn't handle the storms as best I could."
Reeves named his journey the Figure 8 Voyage for the shape of its trajectory — looping through the Southern and Indian Oceans, crossing twice near Cape Horn. But two months into the trip, not far from Cape Horn, is where Reeves hit the first bout of trouble. On Christmas Day, as winds of up to 70 knots battered his craft, a wave he estimates around 40 feet tall clobbered the boat knocking it over, destroying his automatic steering equipment and forcing him to hand steer.
After frantic calls to his wife Joanna Bloor who was gathered with family for the holiday, she collected new steering equipment and personally delivered it to Argentina where the boat was repaired.
"I dominated Christmas in a way that was not particularly pleasant," Reeves said.
Back at sea came Reeves' second, and even more harrowing calamity. In the Indian Ocean his boat was walloped by another storm — this time a 30-foot wave in the dark of night picked the boat up and dropped it like a surfer tumbling off a wave. The boat tipped over with the mast in the water. A window blew out allowing a violent river of water to flood the vessel.
Reeves righted the boat, pumped the water out, boarded up the window and took stock of his damaged gear. All the electronic equipment, including his navigational aids, were destroyed. He limped into port in Tasmania, navigating with paper maps, which had also endured a soaking.
"It's not turned out the way I thought it would," Reeves admitted.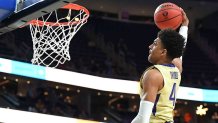 Reeves weighed the options; continue the journey which would again place him in some of the world's stormiest oceans. Wait it out until the next season and continue from Tasmania. Or come home.
"So for me what's next is to sail home from here," Reeves said, conceding his impending return to San Francisco. "Eight-thousand miles, two months."
Reeves expects to arrive back in the Bay Area in late June. But he won't be home long. He's planning to set-out for another attempt at the Figure 8 Voyage in the Fall, employing all his crash-learning about what it takes to navigate vicious storms.
"I've got health, I've got a great boat," Reeves said. "I've got opportunity and desire so I want to give it another go."
Reeves' wife may not be physically in the same boat, but she's weathered every wave and every guest from the couple's Oakland home, following the weather by computer, while helping her husband post his video blogs.
"I think he's completely mad," Bloor laughed. "Like there's no way I could do this, there's no way."
In the sailing community, Bloor said she's known as "best wife in the world" for her unwavering support of her husband's forays. Bloor helped Reeves plan his journey and was in on the decision making about whether to continue. But when it comes to the actual sailing, which includes intense storms but doesn't include regular bathing, she said she's perfectly content to follow his progress from land.
"I've kind of virtually lived with him as he sailed around the world once," Bloor said. "And none of it sounded good."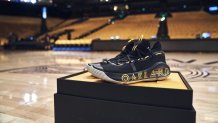 Reeves said his tenacity was etched by his life-long love of sailing, which has motivated him to see his quest through — even if it will take him away from home for a cumulative two years. For him that specific objective has become the lone star to navigate by.
"What does it say about me?" Randall asked, repeating back a reporter's question. "Either that I'm crazy or I'm pretty passionate about this particular enterprise."