A Bay Area sailor will set sail in October in an attempt to become the first person to sail around the Americas and Antarctica solo — all under a year. The trip will take Randall Reeves away from his wife and their East Bay home for the better part of a year - and into some of the world's most notoriously storm oceans.
"I overdid it one night and asked my wife 'hey what do you think about this?' Reeves said on the docks of Point Richmond where his 42 foot sailboat Moli is moored. "And she said 'great you should do it.' My wife is the enabler."
Reeves didn't need much enabling. As a lifelong sailor who learned to sail on the San Joaquin River near his native Stockton, he's made increasingly longer forays out to sea for up to a month at a time. But his upcoming journey which he calls the Figure 8 Voyage for the shape of its path, will be by far his most ambitious.
"It's been a part of my dream since I was very young," Reeves said.
The trip will take Reeves through all the world's oceans, around Cape Horn twice, through thick drifts of ice — coursing two dangerous routes through the Southern Ocean and the Arctic all in a single passage — which Reeves said no one has even attempted before.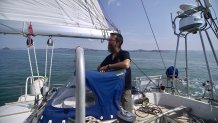 "I'm going to miss my lovely wife who I won't see for a whole year. Miss sleeping in my own bed kind of stuff," Reeves said. "The tradeoff is that you get to wake up every day in this amazingly rough and wild part of the world that almost nobody ever sees."
To prepare for his journey, Reeves spends his days cramming his vessel full of canned foods, instant coffee, Cliff Bars and a powdered food designed in the Silicon Valley called Soylent. He draws up maps just to be able to quickly find his supplies — especially in the midst of a storm when the choice of 'what's for dinner?' drops down the list of vital decisions.
"I eat mostly canned foods and dried foods," Reeves said, "rice and stews, canned vegetables and canned meats."
He also plans to catch fish which he'll have to consume quickly since his boat has no refrigeration. The other thing it doesn't have — a shower. For those romanticizing Reeve's trek, the idea of a year at sea without a shower, surviving mostly on canned food throws a big bucket of salt water on the envy.
"All these guys who thought 'wow that's just the coolest thing,' they begin to drop away a bit," Reeves said. "They go back to mowing the front yard."
Reeve's biggest supporter in his adventure is his wife Joanna Bloor who not only approves of her husband's long, long trip, but is helping him prepare for it. Bloor said people in the sailing community have nicknamed her 'best wife in the world,' for encouraging her husband's extreme bucket list expedition.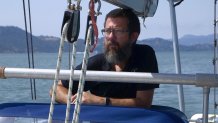 "We spend most of our entire life trying to figure out what we're supposed to do and what is our impact on the planet, and never find that," Bloor said. "And Randall's known since he was ten what he wanted to do and what his impact was."
But Bloor's affinity for her husband's adventure ends at the docks. The most common question she fields these days is whether she's accompanying her husband on the trip.
"To which my answer is generally 'are you kidding?'" Bloor laughed. "The idea of not taking a shower for a year is kind of horrific."
Reeves said he will have plenty to do in place of the showering, like waking up every hour at night to check the course of the boat, navigating unfamiliar waters and performing constant maintenance on his craft. He plans to live-stream parts of his trip and eventually turn his experience into a book. And of course there will be plenty of time to take in the scenery.
"I'm going to see animals who've never seen humans before," Reeves said, "I'm going to see weather that most humans never experience."
Bloor said she understands the powerful spell the oceans have spun on her husband, drawing him further and farther, manifesting in this once-in-a-lifetime pilgrimage to the unknown.
"It comes back to this idea again," Bloor said, "if you know what it is you're supposed to — do go do it — because you don't want to have a regret at the end of the day."