After years of dire forecasts, curtailed seasons and empty fishing nets, the Bay Area's recreational salmon fishing is booming, two weeks into the new season.
"It's been an absolutely amazing start to the salmon season this year," said Jared Davis, skipper of the Sausalito-based Salty Lady sport fishing boat. "Nobody really expected this."
Since the opening of the season between Point Arena and Pigeon Point on June 17, recreational skippers have reported packed boats with anglers catching limits of two fish apiece.
"Epic salmon fishing," Davis said. "The best we've seen in a lotta, lotta years."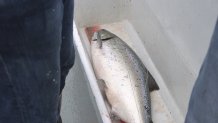 Chinook salmon, also known as king salmon, are a prized catch among anglers. But due to low returns of some runs of salmon on vital rivers feeding into the bay during recent years, state fishing managers have shortened recent seasons. This year's recreational season runs until the end of October.
Ecologists say recent measures by state hatchery managers to truck salmon smolts lower in the river systems to give them a better chance at survival during California's drought are helping.
John McManus, director of the Golden Gate Salmon Association, said some of the larger fish getting hauled in this year may be the result of those efforts in 2015.
"They have made improvements in how they move fish from the hatchery," McManus said. "A lot of people have been working to get more fish in the ocean and see the survival increase, and it's starting to pay off."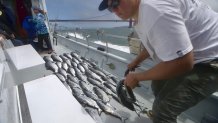 McManus also credits the state's recent wet winters with helping to flush more, cooler water down the rivers to enable the fish to make their trek to the sea and back to their breeding grounds.
"What we're harvesting is mostly hatchery fish while the natural stocks are still rebuilding," McManus said, "thanks to the good rain we got in 2016 and 2017."
While the recreational boats are filled, the commercial salmon boats remain idle in the docks for now, waiting for their season to open later in July.
As in previous years with low fish returns on the major rivers, the commercial fleet will have a hopscotch season running from July 26 to July 31, August 3 to 29, and then September 1 through 30. McManus is optimistic commercial anglers will find fish once the season opens.
"Even though they've lost half of their season this year," McManus said, "the price is good and some people will still get an opportunity to make some money in the commercial fishery."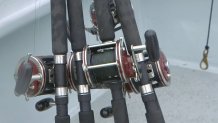 For now, this year's run of salmon is filling plenty of freezers. Aboard the Salty Lady, fisherman Wilson Lyles said boats have been returning to docks early in the day, already loaded with plenty of fish.
"This season has been fabulous," Lyles said. "This is my second time out, the last week we were out we hit limits."
Davis guided the Salty Lady to just off the coast of Half Moon Bay where he joined a small armada of other recreational boats hauled in limits after just a few hours fishing. His own boatload of twenty anglers hit its limit of two fish apiece after several hours — returning to the docks with fish stories aplenty — and half the day still left.
"There's nothing like it," Davis said. "The thrill of the catch with these big salmon is like nothing else."