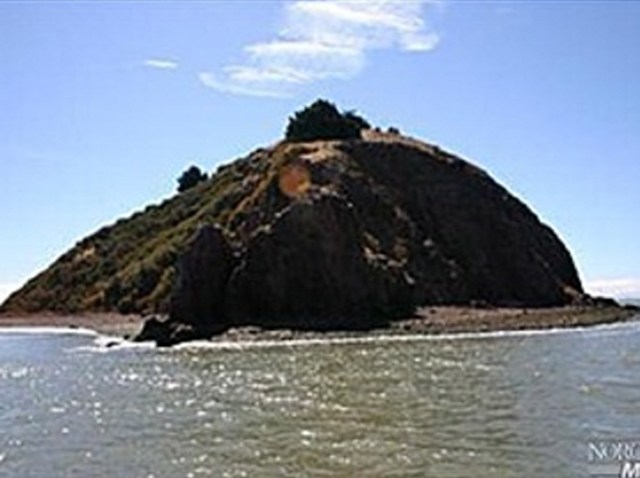 There's a place in the bay that some might call a little-known secret - where you can throw the ultimate private island party - that is, if you have spare cash laying around - say in the neighborhood of $9 million.
Red Rock Island in the San Francisco bay is up for sale. The asking price - yes, a measly $9 million. But - that's a considerable discount considering the original listing at $22 million earlier this year. The owner, Mack Durning, just wants it off his hands - according to the listing agent, Steven Higbee.
The real estate is truly a unique find - It's the only privately owned island in the bay. It lies just on the south side of the Richmond-San Rafael Bridge and straddles three counties - Marin, S.F. and Contra Costa - making for gorgeous views in all directions. The island spans nearly 6 acres and reaches 172 feet above water at its highest point.
Higbee has represented the island off and on for years. He says the former owner, the late David Glickman, a San Francisco attorney, bought the property in 1964 for less than $50,000. Glickman, the son of Frank Lloyd Wright engineer Mendel Glickman, dreamed of transforming Red Rock Island into a vacation hideaway and building a hotel and tapping into its gas reserves.
But neither came to fruition. Instead, retired businessman Durning ended up acquiring Red Rock Island from Glickman some 40 years ago in lieu of a debt. Durning said he made monthly payments for 18 years before earning full ownership. He has done nothing with it since, except occasionally bringing the family or boy scouts on expeditions and cave exploring.
Higbee however, envisions the empty island as a getaway place for vacationers or the setting for a dream house - after removing the top of the rock formation. He places the value of the island at $22 million - taking into account the rock there that's useful for road building, aggregate and cement.
But Higbee says another great option would be for someone to buy Red Rock Island and donate it to the East Bay Regional Park District in Contra Costa.