Thousands of drivers crossing the Bay Bridge on Monday noticed something a bit different when they passed through the toll plaza area.
An east-facing, electronic billboard positioned next to the roadway reads "IMPEACH" and calls for Congress to commence impeachment proceedings in hopes of ousting President Donald Trump, according to those who commissioned the billboard.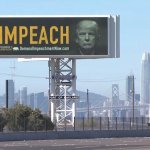 The Courage Campaign, which spearheaded the billboard idea, argues that Trump should be booted from the White House for "attempting to obstruct an investigation into potential wrongdoing by his presidential campaign, refusing to divest from his businesses, publicly supporting white supremacist violence in Charlottesville, and recent decisions to eliminate DACA protections for more than 800,000 young immigrants."
"If the Republican Congress is not willing to take this step, then we will use it as a campaign issue in 2018," Eddie Kurtz from Courage Campaign said. "We will try to show that the Republicans that represent California in Congress are not on board with impeachment."
The San Francisco Republican Party responded to the billboard by calling it a "waste of money" and saying that "none of these accusations amount to constitutional violations."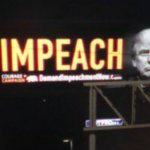 Donations from Californians who support the Courage Campaign helped make the billboard become a reality, according to billboard organizers.
The billboard is slated to stay up through Sunday.
In addition to the billboard, the Courage Campaign has circulated an online petition calling for Trump's impeachment. That petition has more than 90,000 signatures, according to the group.