Jordan Langer is prone to making some very big decisions, very quickly.
"I'm that type of person, once I have an idea, I go," Langer said.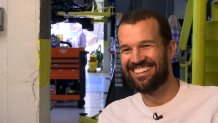 Like the time Langer decided, just three days in, to leave college to pursue a career in the hospitality industry. That one worked out well for Langer. He is now president of Non Plus Ultra, an event space management company in San Francisco.
Turns out, another more recent big decision Langer made has workd out well, too.
Four years ago, Langer founded Project Wreckless, a non profit in San Francisco's Bayview District in which at-risk youth work with Langer and a team of mentors to restore vintage automobiles.
The venture combined a desire to help others with Langer's life-long love of working on cars.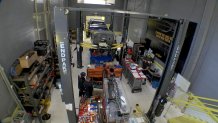 "Anything that I could build with my two hands was always kind of a passion of mine and I made it through high school because of auto shop," said Langer. "Without that to bolster my grades up, there was no chance I was doing it."
But as someone who described having a midlife crisis every four years, Langer said he felt the urge to do something positive for his community.
"I wanted to do something that actually mattered," he said. "So for months I wracked my mind, what is it going to be? I always knew it was going to be youth."
Then one day while working on his car, he cut his hand, and the jolt to his hand sparked his imagination like a bolt of lighting.
"The concept of working on cars hit me like a ton of bricks," said Langer. "Taking an old car and converting it to a beautiful show quality machine, we can do something similar with our youth."
And so Project Wreckless was born.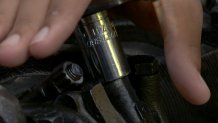 Langer bought a space in San Francisco's Bayview neighborhood and turned it into a car mechanic's dream garage. There, the youth would get the chance to learn hands-on the different aspects and jobs that come with running a car mechanic shop.
Now he had to figure out a way to get some of Bayview's most troubled teens and young adults to take part in his social experiment.
"We're going Go Kart racing right afterwards," Langer said he told the youth during the first Project Wreckless meeting.
A dozen students turned into a couple dozen students through word of mouth, and referrals from the San Francisco District Attorney's Office.
Langer also took the youth on a ride-along with professional race car drivers and offered many other incentives to keep students on board with the program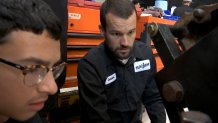 Though many of his students were far from car mechanic professionals, Langer said that his program was meant to give students the tools to become professionals in whatever they chose to pursue.
"It's about showing the youth that there's so many opportunities out there, that you don't just have to be a mechanic," he said. "There's also the ability to do human resources, marketing, all of these different things."
At the end of every meeting, the youth and on-site mechanics come together for dinner and speak about what motivates them every day.
"You'll see this sense of camaraderie, this sense of family that has really really strong and the number of youth that have not succeeded dwindles the number of youth that have and that will," said Langer.
"The goal for the next few months is to really get Project Wreckless to a point where it's more sustainable. Right now it's pretty much self-funded by [my] companies and the Board," he said. "But I know that once we continue to do the good work, good things will come."