City and school leaders across the Bay Area are reacting to the mass shooting in at a Connecticut elementary school.
Friday morning, a gunman shot and killed 26 people at the Sandy Hook Elementary School, including 20 children, according to Connecticut State Police officials.
The gunman was pronounced dead at the school. His mother was found dead in her home nearby, police said.
School officials across the Bay Area sent out letters to parents pointing them to resources to help them talk to their children about the tragedy.
In its letter, the Oakland school district told parents while there is no foolproof method to prevent such incidents, it believes its level of readiness greatly exceeds that of the typical school district because Oakland schools have a dedicated school police force.
"Our thoughts also turn inward as we reflect on the safety of our children here in Oakland and the violence that pervades many parts of this community. The massacre in Connecticut has aroused fears and questions about our readiness for such an event and our ability to counsel children as they cope with senseless death. Some parents have also requested advice on how to speak with children about this frightening development," the letter read in part.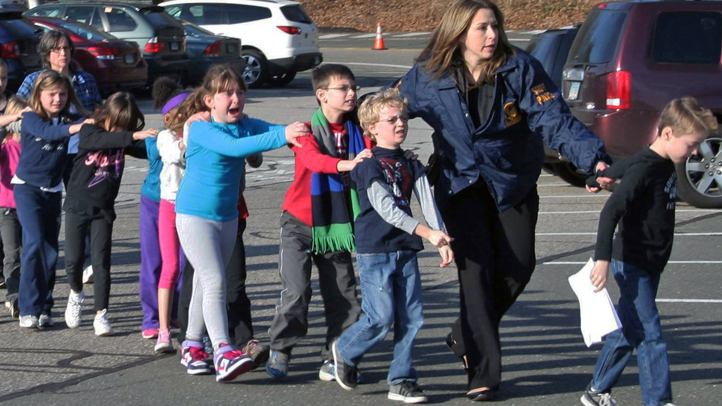 The district asked parents to take time to familiarize themselves with the material. They were also told to call the school if they thought they needed more resources, such as connection to mental health officials.
Some of the documents are below:
Oakland Mayor Jean Quan said she is trying to reach out to officials in Newton, to offer her support. She said Oakland understands the heartbreak of young people lost to senseless violence.
It was just eight months ago when seven lives were lost at Oikos University during a mass shooting.
"We agree with President Obama that 'we are going to have to come together and take meaningful action.'"
Quan when on to talk about the need to provide more mental health intervention and the need for family and neighbors to find help when mental illness is apparent.
"Please join me in praying for the victims and their families," Quan said in the statement.
As a mark of respect for the victims of the mass shooting, city officials in San Francisco ordered flags on all city property be flown at half-staff.
That follows an order by Pres. Barack Obama to lower flags across the country through Dec. 18.
Mayor Edwin M. Lee and San Francisco Unified School District Superintendent Richard A. Carranza issued the following statement:
"San Francisco grieves with those affected by the needless and horrifying violence this morning in Connecticut. Our thoughts, prayers and deep sympathy go out to the families of the children and other victims of this unspeakable tragedy.

There is little we can say with our words to provide comfort to those affected, but we can move forward with purpose to do everything we can to prevent such tragedies from ever happening again. In the wake of such a national tragedy, we redouble our efforts to work together to ensure that our students, families and school staff remain safe."

The City and SFUSD district are working closely together to immediately respond to schools and provide support needed in the event of any school crisis. All SFUSD schools have a safety plan that is updated annually and schools have been trained to implement these plans at their sites. School staff is prepared to help students who may be reacting to the tragedy and need support. SFUSD schools remain open.
San Francisco's department of public health along with the police department said they are also providing support to schools. Families who would like support are being told to reach out to resources available at school sites and in the City. For more information about resources, residents should contact 311 at any time.