One person's trash is another person's treasure.
It's a well-worn cliche.
Still, there is no better way to describe the story about Sonoma State University junior Kiaya Hargis and the (at least) 70-year-old suitcase she discovered in a campus dumpster.
[[557957041 , C]]
The Fresno native had made it a part of her daily routine this past summer to check out the dumpsters around her housing village. Hargis was on the hunt for anything in good enough condition to re-sell.
"You wouldn't believe the stuff people throw away," Hargis said. That was never more true than one day in June when Kiaya peered over the edge of a dumpster and saw an old, yellow suitcase.
"It wasn't something that looked like the college had thrown away," she said. "So that's when I looked in."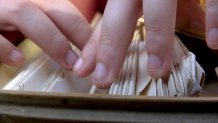 Hargis thought there might have been cash in it, she said. But when she opened the briefcase, Hargis said found something she considers even more valuable. The suitcase contained the memorabilia of a World War II soldier. His name was Richard.
Hargis discovered identification cards, photographs, and letter after letter Richard had written to his future wife.
"It was like 1943, and then 1944 and 1945, so he actually had them organized by year, the letters, which was quite impressive," said Hargis. "Nobody organizes letters like that unless you're in the military."
Immediately, Hargis showed her roommate the contents of the briefcase/suitcase and the two of them spent the next few hours combing through it all. Kiaya became intensely curious, not only about Richard but how his treasured belongings had met such an inglorious fate.
As a criminal justice major, Hargis was eager to investigate the case. She researched and posted information online, eventually learning that Richard died in 2011. Her work ended up catching the attention of Chris Smith, a columnist for the Press Democrat in Santa Rosa.
While researching the story for his column, Smith made contact with one of Richard's relatives. He was told the suitcase has been disposed of when family members moved Richard's widow out of her nearby home. The family did not request the belongings be returned.
Hargis admits that news was something of a disappointment to her.
"I would kill to have something like that from my grandpa," said Hargis. "My mom was like, 'Even if they didn't want it for whatever reason, there's probably someone who does'."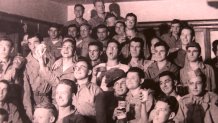 With both of her grandparents being WWII veterans, Hargis said she knew the importance of preserving the memorabilia and decided to start looking for a new home to display the photos and letters.
Her ideal place would be a WWII or local history museum, as long as the work would be publicly displayed.
"This was someone's life. I mean, he saved all these things. Someone should see them."
While Hargis looks for the perfect place for all the lost history she discovered, she said she was just grateful to be looking inside that particular dumpster at that particular time.
"Things happen for a reason, I can't complain."