Berkeley's ordinance requiring cellphone retailers to warn customers about radiation levels in the devices was the subject of a contentious legal battle in a San Francisco courtroom Tuesday.
A three-judge panel in the 9th Circuit Court of Appeals heard cellphone industry representatives arguing to reverse a lower court's ruling that OK'd Berkeley's ordinance, the first such city law in the country. The ordinance, adopted in March, mandates that cellular companies warn customers about exposure to radiation if the devices are held too close to their body.
There is actually an exposure notice embedded in cellphones, though most people likely have never seen it.
So Berkeley leaders went a step further. In May 2015, the the city voted to require cellphone stores to post notices.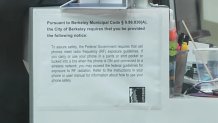 On Tuesday, lawyers representing the cellphone industry argued that the warnings are an undue burden.
"That is squarely contrary to science facts and the FCC's carefully considered findings," said attorney Theodore Olson, former solicitor general. Olson went on to tell the court the Federal Communication Commission's radio frequency exposure standards were 50 times more than needed.
Judge William Fletcher noted the science is not yet settled, and Harvard Law professor Lawrence Lessig said the Berkeley ordinance is not about arguing the science, it's about telling people of the government's standards.
"Have they ever said that putting a cellphone in your pocket is dangerous? one of the three judges asked.
"No," Lessig replied. "But they have repeatedly said here are the standards you have to live under in order to get a cellphone approved so that we can certify it as safe."
Lessig said after the hearing that Berkeley just want cellphone users to know that they may be overexposed to cellphone radiation. Meanwhile, the industry said the warning is just a scare tactic.
A ruling from the 9th Circuit panel is expected in the next couple of months, but both sides appear ready to take the case all the way to the Supreme Court.