The first cut was the hardest for Allison Hampton.
The very first time she took a pair of scissors to a perfectly good wedding dress, Allison wasn't sure she could go through with it.
"The hardest part for me was getting this beautiful wedding dress and going, 'I don't want to cut it up. It's too pretty,'" the Berkeley City College student remembers.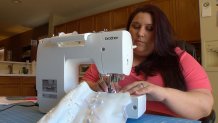 That was five months, and many dresses ago. Once Allison learned of all the good was to come from destroying those wedding dresses, all hesitation was gone.
"It's better than anything than I could ever do in my life," Allison says.
What Allison has been doing is transforming donated, used wedding gowns into gowns of a much different kind: burial gowns for babies who never make it home from the hospital. "One in 160," Allison says, quoting a statistic about the number of stillbirths in the United States.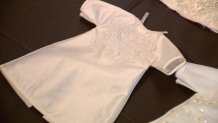 Allison's non profit, Angel Gown Project of California, came to life after she learned of others providing a similar service in other parts of the country. Having learned to sew at her grandmother's knee, Allison thought it was something she could do. At first Allison tried volunteering for an existing non profit, but the logistics were difficult, so she decided to strike out on her own.
WATCH MORE BAY AREA PROUD STORIES
The wedding dresses Allison receives are donated for any number of reasons. Some come from divorced women, others simply want to see a dress that will never wear again be put to good use.
Allison first cuts the dresses into pieces, doing her best to preserve any intricate beading,lace, or buttons. Using a simple dress pattern, Allison then sews the pieces into a gown made to fit a newborn.
"I'm averaging one to two gowns a night," Allison says.
Most of the Angel Gowns sews are donated to hospitals to be used when needed, so Allison rarely knows who the recipients are.
One recently donation was an exception, though.
"When she was born she was one pound, five point five ounces," Desiree Reyes says about her daughter, Jordyn. "But she was feisty."
Born four months premature in October of 2014, Jordyn battled a slew of medical conditions before passing away in early 2015.
A mutual friend told Allison about Desiree's loss. Within days, she found a gown in her mailbox.
Desiree, and fiance Justin Brown say they are touched beyond words that a total stranger would do something so kind for them. "She never got to wear a dress," Desiree says of her daughter, "and now she'll get to live on forever in a beautiful dress."