A Berkeley icon - Chez Panisse - caught on fire early Friday, shocking those who love the restaurant known for its fresh, organic and expensive meals, while garnering interest and concern from across the country.
The fire at the 1517 Shattuck Avenue restaurant was reported just after 3 a.m. when someone spotted flames and called 911. It likely started a couple hours before that.
They don't have an immediate cause, but Berkeley Fire Department Acting Chief Avery Webb said investigators are looking at the electrical system to see if that sparked the fire, which appears as though it may have started under the porch. A sprinkler inside the building helped quell the damage, he said. Early estimates showed to be about $200,000.
And despite the outside of the wooden building looking burned to the core, Webb said that inside, the "damage didn't look too bad, there's not even that much smoke damage." The main beams of the restaurant are still strong, and the main dining room, the kitchen and upstairs cafe were spared.
This just isn't any other fire at any other restaurant.
The icon that Chez Panisse is to foodies around the globe, quickly drew the attention of news agencies spanning from the Los Angeles Times to the New York Times. Olympic swimmer Natalie Coughlin, who lives in the East Bay, tweeted she was "so sad to hear about the fire at #ChezPanisse! Such an iconic Berkeley restaurant. Absolutely love that place."
And diners who had traveled long distances to eat there were definitely disappointed.
Carol Esch of New Jersey planned to eat at Chez Panisse with her friends for lunch on Friday. She was shocked to arrive and find it burned.
"I came across the country to come here," Esch said. "It was on my bucket list to come here for lunch today. I'm so sad, really so sad."
Chez Panisse is owned by Alice Waters, who showed up on scene about 6 a.m. and was seen hugging her general manager. She was obviously shocked. And she said she was glad she didn't listen to her first instincts about not putting in a downstairs sprinkler.
With tears choking her words, she told a group of reporters that she had mixed emotions.
"I'm sad, very sad," she said, before quickly switching gears and adding, "Right now I just feel lucky." (To see some of her interview, click here.)
The chef and activist opened Chez Panisse in 1971, and she remembers another fire in 1982.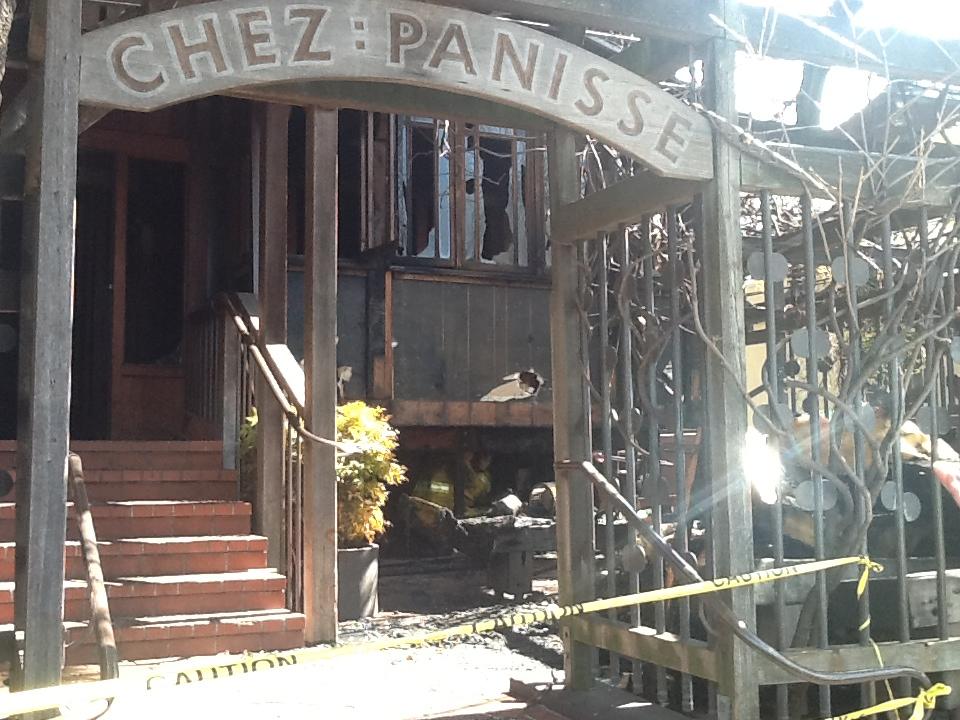 Since then, Waters has worked beyond the restaurant to promote cooking and eating healthy, locally grown food. She often works with schools to promote good eating with young children.
The menus at Chez Panisse are always changing. Her current one boasts delicacies such as Six Hog Island Sweetwater oysters on the half shell with mignonette sauce ($16) in her moderately priced cafe. And Friday's fixed-price dinner was going for $100; the main dish would have been Becker Lane Farm pork loin grilled with cumin, artichokes, rapini and white beans azafran.
Waters is one of the most influential figures on the American food scene. And people from near and far flock to Chez Panisse for special occasions. Chez Panisse was recognized as the Best Restaurant in America by Gourmet Magazine in 2000, and since then, has won several more awards.
When the restaurant will re-open is unclear, though Waters told a group of reporters that it certainly will. In fact, she said she was thinking about using this opportunity to possibly expand.
"It's really important that we rebuild," she said. "I'm sure we will have the complete support of the insurance company."
To see some of Alice Water's raw video this morning click here:

[
View the story "Chez Panisse Fire in Berkeley " on Storify
]
NBC Bay Area's Jodi Hernandez contributed to this report. Contact Lisa Fernandez at 408-432-4758 or lisa.fernandez@nbcuni.com.