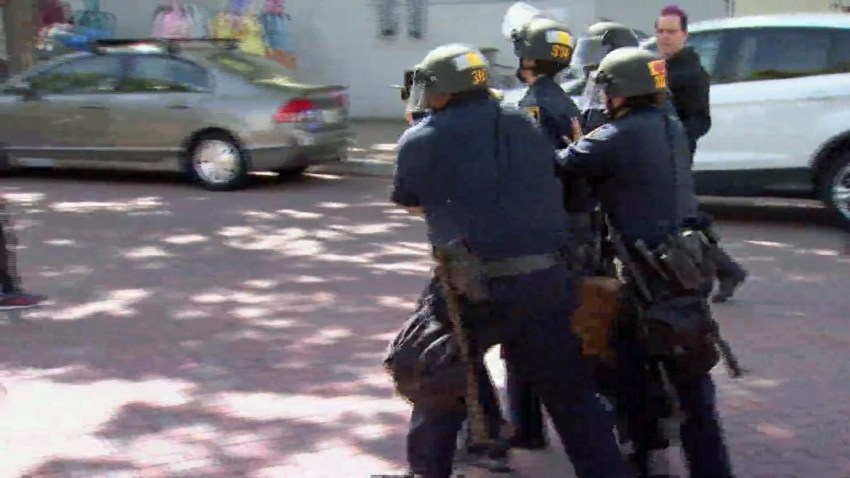 The violence in Berkeley and the police response to it over the weekend was under harsh criticism Monday night, yet Mayor Jesse Arreguin said he supports the new tactics used by police.
Arreguin said officers were in a tough spot Saturday when several hundred people arrived in Berkeley for a Patriots Day pro-Trump rally and anti-Trump protest. Some of the people were looking for a fight, and they were not disappointed.
"The police took a very careful, very thoughtful approach," Arreguin said. "They could've moved very aggressively, and that definitely would've escalated things."
Arreguin said the police chief came up with new strategies to deal with the situation, such as fencing at the park, restricting access and putting in place a policy that weapons would not be allowed in the park.
Many weapons were in fact confiscated.
Still, charges against the 20 people arrested in Saturday's violence include assault with a deadly weapon, battery and committing a criminal offense while wearing a mask. The mayor said free speech stays, and outside agitators have to go.
"I imagine this won't be the last time that right-wing provocateurs come to our city to send a message, and we will be ready to respond to keep our community safe," Arreguin said.
Some say members of the so-called anti-fascist group are the problem.
"I really think the people who call themselves the black anarchists need to be investigated," said Sheila Jordan.
Berkeley police said they're focused on the peaceful expression of free speech and will seek prosecution for those who infringe on that right.