Police are issuing a warning about a series of sexual assault in Berkeley.
The Berkeley Police Department also on Thursday released video of a man who could be linked to three assaults in the last week. Police said the suspect is targeting Asian women.
"Grabbing them forcibly in one case, knocking her to the ground in one case and grabbing from behind," Berkeley police spokeswoman Jennifer Coats said. "There is force and violence to this."
Police said the first assault took place at 9:10 p.m. on Feb. 11 on Haste Street adjacent to People's Park and near the University of California, Berkeley campus.
At 11: Berkeley PD looking for this man. May be tied to 3 recent sexual assaults. @nbcbayarea pic.twitter.com/lIF7AXYv29

— Jean Elle (@nbcjeanelle) February 19, 2016
On Tuesday, Feb. 16, police said a woman in her 20s was sexually assaulted shortly after 11 p.m. at the intersection of Dwight Way and Benvenue Avenue, less than a block from the park.
Police said 20 minutes later the suspect attacked a third victim on Benvenue Avenue. Police said the victim in that incident chased the suspect through campus housing.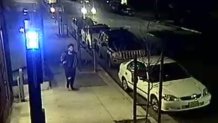 Coats gave four tips to avoid assaults.
She said people out late should be aware of their surroundings, try to walk in well-lit areas, try to walk with friends and avoid texting or other distractions while walking.
Bay City News contributed to this report.