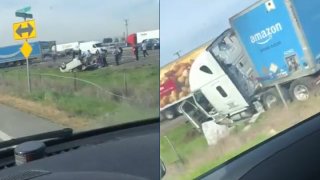 A big rig crashed through a center divide on Interstate 80 in Solano County in what the California Highway Patrol said was a major-injury collision involving multiple vehicles Friday morning.
Initially, the CHP reported it as a fatal collision, but later revised its report to say one potential fatality and several injuries.
Video from a passerby shows the big rig involved was an Amazon Prime semi-truck. The CHP said it was traveling westbound on the freeway when it crossed over
Traffic on the freeway in the Dixon area was affected in both directions, the CHP said.
No further details were available.